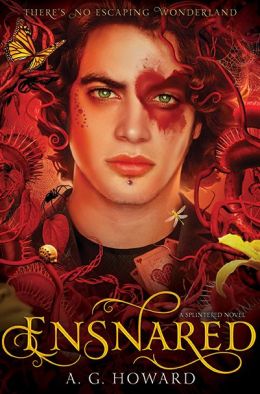 Title:
Ensnared.
Author:
A.G. Howard.
Synopsis:
"After surviving a disastrous battle at prom, Alyssa has embraced her madness and gained perspective. She's determined to rescue her two worlds and the people and netherlings she loves. Even if it means challenging Queen Red to a final battle of wills and wiles . . . and even if the only way to Wonderland, now that the rabbit hole is closed, is through the looking-glass world—a parallel dimension filled with mutated and violent netherling outcasts.
In the final installment of the wildly popular Splintered trilogy, Alyssa and her dad journey into the heart of magic and mayhem in search of her mom and to set right all that's gone wrong. Together with Jeb and Morpheus, they must salvage Wonderland from the decay and destruction that has ensnared it. But if they succeed and come out alive, can everyone truly have their happily ever after?"
Release Date:
1/6/15
Ensnared is the third installment in the Splintered series, and just like the first two, the cover looks absolutely stunning! I have yet to read, Splintered and Unhinged, but the covers always stick out to me when ever I found myself roaming the book store.
Truth be told, I haven't read a review on either of these books, nor do I know what they are about. But after talking to a friend of a friend about this series, and finally getting around to reading the synopsis, I couldn't resist...the third book had to be my choice for this week's "Waiting on Wednesday".
Who doesn't love a good fairy tale retelling? I sure do! Especially an Alice in Wonderland one!
Be sure to leave comment down below, letting me know what you're waiting for this week!