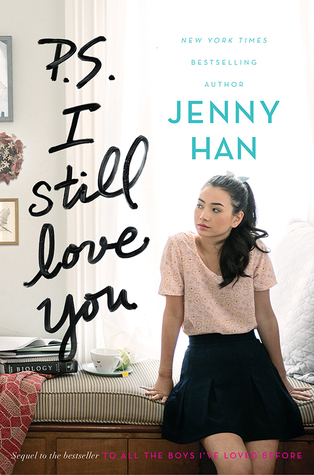 P.S. I Still Love You, by Jenny Han
"Lara Jean didn't expect to really fall for Peter.
She and Peter were just pretending. Except suddenly they weren't. Now Lara Jean is more confused than ever.
When another boy from her past returns to her life, Lara Jean's feelings for him return too. Can a girl be in love with two boys at once?"
After indulging and practically gulping down To All The Boys I've Loved Before, I couldn't resist and had to add the second book, P.S. I Still Love You to my birthday wish list!
On my birthday I was lucky enough to receive my very own copy, and couldn't contain my excitement!! If you haven't read any of Jenny Han's books, you NEED to! They are absolutely amazing and I recommend starting with these two.
After the dramatic ending to the first book, there was no way I wasn't going to continue on with the second one. I loved the cast of characters, and enjoyed watching them and their relationships with one another develop.
I've never had a sister, so I couldn't get enough of Lara Jean, with her younger and older sisters. They were so close, and had this bond that is indescribable. They always cared so much for one another, and placed the other before themselves. Besides that I also really like their father, he wasn't the usual dad. He didn't judge his daughters, he let them do whatever they want in life, and completely supported them doing it. He wasn't mad or upset when Lara found herself in a bit of trouble, but instead wanted her to feel comfortab;e enough to talk to him about it. He wanted to be a part of their lives, but still gave them enough space to truly discover who they are and what they want to be.
Besides reading more about this family and their close bond, I was also dying to see what would happen between Lara Jean and Peter, as well as Margo and Joshua.
Lara Jean had no idea that she would create these real feelings towards Peter, while "pretending" to date him, and she doesn't know what to do with them. Things don't become any easier for Lara when one moment Peter is giving her all of his attention and time, and then other moments he is back with his ex-girlfriend, hanging out and talking.
But time is up soon and chances to tell Peter how she feels is running out. She needs to decide if these feelings of hers are real, or if they're just as "pretend" as her relationship with Peter.
I couldn't get enough of these two! They are just too adorable!
P.S. I Love You, had a lot to live up to, and it meet every one of my expectations. I got more of Peter and Lara's special relationship, I finally learned why Peter and his ex-girlfriend broke up, and Margo's true reason for breaking up with Joshua in the first book!
I couldn't have picked a better book to end my summer reading with, and am hoping for a third installment! Have you picked up this duology yet?