Blood Red Road, by Moira Young.
"Saba has spent her whole life in Silverlake, a dried-up wasteland ravaged by constant sandstorms. The Wrecker civilization has long been destroyed, leaving only landfills for Saba and her family to scavenge from. That's fine by her, as long as her beloved twin brother Lugh is around. But when a monster sandstorm arrives, along with four cloaked horsemen, Saba's world is shattered. Lugh is captured, and Saba embarks on an epic quest to get him back.
Suddenly thrown into the lawless, ugly reality of the world outside of desolate Silverlake, Saba is lost without Lugh to guide her. So perhaps the most surprising thing of all is what Saba learns about herself: she's a fierce fighter, an unbeatable survivor, and a cunning opponent. And she has the power to take down a corrupt society from the inside. Teamed up with a handsome daredevil named Jack and a gang of girl revolutionaries called the Free Hawks, Saba stages a showdown that will change the course of her own civilization.
Blood Red Road has a searing pace, a poetically minimal writing style, violent action, and an epic love story. Moira Young is one of the most promising and startling new voices in teen fiction."


Cryer's Cross, by Lisa McMann.
"Kendall loves her life in small town Cryer's Cross, Montana, but she also longs for something more. She knows the chances of going to school in New York are small, but she's not the type to give up easily. Even though it will mean leaving Nico, the world's sweetest boyfriend, behind.
But when Cryer's Cross is rocked by unspeakable tragedy, Kendall shoves her dreams aside and focuses on just one goal: help find her missing friends. Even if it means spending time with the one boy she shouldn't get close to... the one boy who makes her question everything she feels for Nico.
Determined to help and to stay true to the boy she's always loved, Kendall keeps up the search--and stumbles upon some frightening local history. She knows she can't stop digging, but Kendall is about to find out just how far the townspeople will go to keep their secrets buried...."
Withering Tights, by Louise Rennison.
"Wow. This is it. This is me growing up. On my own, going to Performing Arts College. This is good-bye, Tallulah, you long, gangly thing, and hellooooo, Lullah, star of stage.
Tallulah Casey is ready to find her inner artist. And some new mates. And maybe a boy or two or three.
The ticket to achieving these lofty goals? Enrolling in a summer performing arts program, of course. She's bound for the wilds of Yorkshire Dales—eerily similar to the windswept moors of Wuthering Heights. Tallulah expects new friends, less parental interference, and lots of drama. Acting? Tights? Moors? Check, check, check.
What she doesn't expect is feeling like a tiny bat's barging around in her mouth when she has her first snog."
Random Magic, by Sasha Soren.
"When absent-minded Professor Random misplaces the main character from Alice in Wonderland, young Henry Witherspoon must book-jump to fetch Alice before chaos theory kicks in and the world vanishes. Along the way he meets Winnie Flapjack, a wit-cracking doodle witch with nothing to her name but a magic feather and a plan. Such as it is. Henry and Winnie brave the Dark Queen, whatwolves, pirates, Struths, and fluttersmoths, Priscilla and Charybdis, obnoxiously cheerful vampires, Baron Samedi, a nine-dimensional cat, and one perpetually inebriated Muse to rescue Alice and save the world by tea time."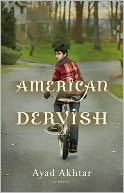 American Dervish, by Ayak Ahktar.
"Hayat Shah was captivated by Mina long before he met her: his mother's beautiful, brilliant, and soulfully devout friend is a family legend. When he learns that Mina is leaving Pakistan to live with the Shahs in America, Hayat is thrilled.
Hayat's father is less enthusiastic. He left the fundamentalist world behind with reason. What no one expects is that when Mina shows Hayat the beauty and power of the Quran, it will utterly transform the boy.
Mina's real magic may be that the Shah household, always contentious and sad, becomes a happy one. But when Mina finds her own path to happiness, the ember of jealousy in Hayat's heart is enflamed by the community's anti-Semitism-and he acts with catastrophic consequences for those he loves most."