Today I just started L.A. Candy by Lauren Conrad, I'm not to far into it yet, but its pretty good.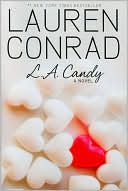 L.A. Candy, by Lauren Conrad.
"In L.A. CANDY, nineteen-year-old Jane Roberts moves to L.A. and unexpectedly becomes the star of a reality T.V. show. With fame comes wealth, hot clothes and even hotter love interests -- and Jane′s lapping it all up with her eclectic entourage of pals who are always up for a wild night out and the chance to get a piece of her spotlight. But soon Jane realizes everyone wants something from her, and nothing is what it seems to be."
If you've already read this book, or series, comment down below, I would love to hear what you thought about it!(: