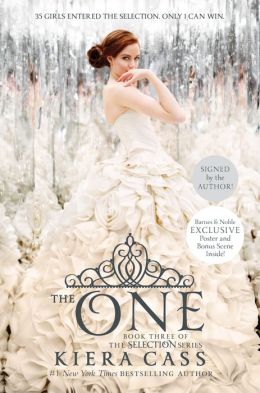 Title:
The One.
Author: Kiera Cass.
Summary:
"The highly anticipated third book in Kiera Cass's #1 New York Times bestselling Selection series! This B&N collector's edition includes a double-sided poster featuring the covers of The Selection and The One, as well as an exclusive extra scene from Kiera Cass! The One will captivate readers who love dystopian YA fiction and fairy tales. Fans who have followed America's whirlwind romance since it began will delight in The One—a swoon-worthy read for teens who have devoured Veronica Roth's Divergent, Ally Condie's Matched, or Lauren Oliver's Delirium.
The Selection changed America Singer's life in ways she never could have imagined. Since she entered the competition to become the next princess of Illéa, America has struggled with her feelings for her first love, Aspen—and her growing attraction to Prince Maxon. Now she's made her choice . . . and she's prepared to fight for the future she wants."
Release Date: 5/6/14.
Why I'm Waiting: I have wanted to start this trilogy for a while now, not only because of the beautiful covers, but because all the amazing reviews these three books have been receiving. I just recently purchased the first two books, and I'm EXTREMELY excited to get to them!