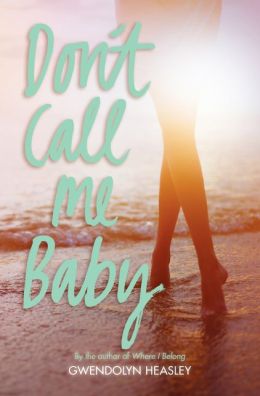 Title:
Don't Call Me Baby.
Author:
Gwendolyn Heasley.
Summary:
"All my life, |'ve been known as the girl on that blog.
Do you know what it's like for everyone to think they know you because of what they read on some stupid website? My mother has been writing an incredibly popular, and incredibly embarrassing, blog about me since before I was born. The thing is, I'm fifteen now, and she is still blogging about me. In gruesome detail.
You can read my life as my mom tells it on mommyliciousmeg.com. But this story is my actual life and about what happened when my BFF Sage and I decided to tell the real truth about our lives under a virtual microscope. Thanks for reading.. . . Just don't call me Babylicious."
Release Date:
4/22/14.
Why I'm Waiting:
You mean I need another reason besides the awesome beach summery cover?!
The synopsis sounds fun and enjoyable. I think it would be hilarious to see a teenage girl and how she lives her life through her mothers eyes. While I would never want my mom writing about my life online, I think it would be fun to go back to old blog posts and remember all the good times.
Sounds fun! Excited to see if I can get my hands on a copy!