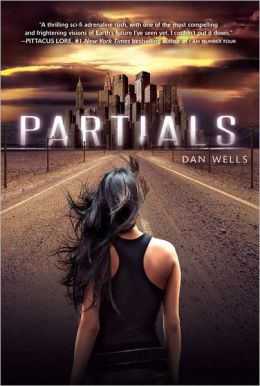 Title:
Partials.
Author:
Dan Wells.
Format:
Hardback.
Pages:
468.
Series:
Yes, #1.
Source:
Library.
Publisher:
Balzer + Bray.
Published Date:
2/28/2012.
Summary:
"The human race is all but extinct after a war with Partials--engineered organic beings identical to humans--has decimated the population. Reduced to only tens of thousands by RM, a weaponized virus to which only a fraction of humanity is immune, the survivors in North America have huddled together on Long Island while the Partials have mysteriously retreated. The threat of the Partials is still imminent, but, worse, no baby has been born immune to RM in more than a decade. Our time is running out. Kira, a sixteen-year-old medic-in-training, is on the front lines of this battle, seeing RM ravage the community while mandatory pregnancy laws have pushed what's left of humanity to the brink of civil war, and she's not content to stand by and watch. But as she makes a desperate decision to save the last of her race, she will find that the survival of humans and Partials alike rests in her attempts to uncover the connections between them--connections that humanity has forgotten, or perhaps never even knew were there. Dan Wells, acclaimed author of I Am Not a Serial Killer, takes readers on a pulsepounding journey into a world where the very concept of what it means to be human is in question--one where our humanity is both our greatest liability and our only hope for survival."
Links:
Goodreads.
Barnes and Noble.
Cover:
I actually really like the cover, even though I'm pretty bummed that the second book has almost the exact same picture, except a guy is copied and pasted into it. The cover has a mysterious vibe, and made me question what was going on in this book. Why is she just looking at the city? Why is there this fence between her and the city? And why does the city look..almost dirty?
My Thoughts:
Dan Wells introduces his readers to both a world in complete shambles and an amazing cast of characters. Kira was the strong leading female character that I'm recently loving in dystopian novels. I really liked Kira right from the start! Kira's character and strength were displayed within the first few pages, when she asked her boss at the hospital, if it was okay for the mother to hold her dead baby; which was impressing, due to her only being an intern.
Marcus is also one of my favorite characters in Partials, even though we don't get to know him or see him to often in the story. He is Kira's sweet, sweet boyfriend. He is honestly the nicest guy, and sometimes throughout Partials I found myself wishing that Kira would give him more of her attention; that she would love and care for him, just as much as he did for her.
Samm is another one of the main characters, while I don't dislike him, he is kind of dark and mysterious, and I don't yet know what to think of him. Samm seems honest, and seems to want what Kira and her friends want; peace.
I do have to say the end resolute was a bit predictable, but many other things happened towards the end that boggled my mind. I really enjoyed how things worked and if I didn't already read Fragments, this is where I would tell you guys just how excited I am to read it!
Overall Partials was a 4.5 out of 5 (if I actually used a rating scale). The story, the entire ideas of Partials, and the characters made the book for me. The reason as to why it didn't receive the full 5, was because of the predictable ending. It didn't bother me that much, because I like to think of myself as a super undercover spy that knows everything that goes on in stories.. just kidding. (Not really)
I would recommend this book to anyone who enjoys dystopian stories, strong female characters, not so much romance, and a sprinkle of butt kicking (: