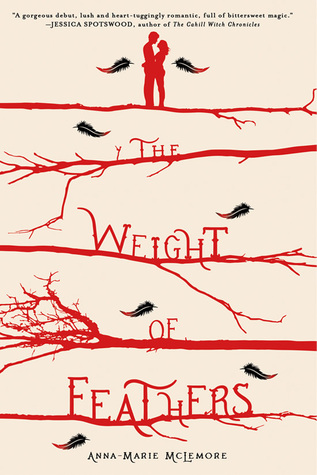 The Weight of Feathers, by Anna-Marie McLemore
St. Martin's Griffin
On Sale: September 15, 2015
Hardcover: 978-1-250-05865-2/ $18.99 USD
eBook: 978-1-466-87323-0 / $9.99 USD
"For twenty years, the Palomas and the Corbeaus have been rivals and enemies, locked in an escalating feud for over a generation. Both families make their living as traveling performers in competing shows—the Palomas swimming in mermaid exhibitions, the Corbeaus, former tightrope walkers, performing in the tallest trees they can find.
Lace Paloma may be new to her family's show, but she knows as well as anyone that the Corbeaus are pure magia negra, black magic from the devil himself. Simply touching one could mean death, and she's been taught from birth to keep away. But when disaster strikes the small town where both families are performing, it's a Corbeau boy, Cluck, who saves Lace's life. And his touch immerses her in the world of the Corbeaus, where falling for him could turn his own family against him, and one misstep can be just as dangerous on the ground as it is in the trees. "
Anna-Marie McLemore was born in the foothills of the San Gabriel Mountains and grew up in a Mexican-American family. She attended University of Southern California on a Trustee Scholarship. A Lambda Literary Fellow, she has had work featured by the Huntington-USC Institute on California and the West, CRATE Literary Magazine's cratelit, Camera Obscura's Bridge the Gap Series, and The Portland Review. The Weight of Feathers is her first novel.
What inspired you to become a writer? And what inspired you to write a story about traveling performers?
My family, and the cultures I grew up with, first inspired me to write stories. And it was actually a family member who gave me the first inspiration for THE WEIGHT OF FEATHERS. Years ago, my father told me about a mermaid show he'd seen when he was in his twenties. Ever since I've wanted to write a story about performing mermaids, but it wasn't until a photographer friend had me out in the woods while wearing a set of wire and cloth wings that the idea for the book came to me. Women swimming in mermaid tails, and winged tree performers. The story grew from those two images coming together.
I'm absolutely afraid of heights, and would never walk a tight rope, if the opportunity surfaced, would you?
You and me both! But if the opportunity surfaced, and there was someone experienced to teach me, I'm not sure I could pass it up!
I love the title, The Weight of Feathers, how did you come up with it?
I actually didn't! My wonderful agent came up with it, inspired by a phrase in the book.
If you could become a performer in this traveling show, what do you want to do?
I'd love to be a mermaid! I love being in water, and I've pretty much wanted to be a mermaid since I was three. Though I was young enough that I don't remember learning, my father tells me about how quickly I took to swimming.
Thank you so much for having me!
This giveaway is only for residents of US & Canada!
And the book will be shipped to you by the publisher, St. Martin's Griffin!