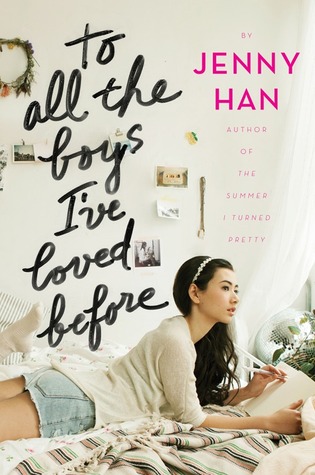 To All The Boys I've Loved Before, by Jenny Han.
"To All the Boys I've Loved Before is the story of Lara Jean, who has never openly admitted her crushes, but instead wrote each boy a letter about how she felt, sealed it, and hid it in a box under her bed. But one day Lara Jean discovers that somehow her secret box of letters has been mailed, causing all her crushes from her past to confront her about the letters: her first kiss, the boy from summer camp, even her sister's ex-boyfriend, Josh. As she learns to deal with her past loves face to face, Lara Jean discovers that something good may come out of these letters after all."
I fell in love with Jenny Han's writing in her older trilogy, "The Summer I Turned Pretty". I adored her characters, I admired her stories and overall, Jenny Han quickly became one of my favorite authors!
I attempted to read her "Burn for Burn" trilogy, but just couldn't get into the first book. I decided to put it down, because I honestly enjoyed her writing too much in "The Summer I Turned Pretty" and didn't want to ruin that through "Burn for Burn".
When "To All The Boys I Love Before" was released I knew I had to get my hands on a copy! Obviously it's been a while since this book first hit the stores, but better late than never, right?
I started reading around midnight last night, and am three chapters into it. I don't really have an opinion just yet, but I can already sense, that I might not like Lara Jean's older sister. She seems heartless, and cold.
I'm excited to crawl into bed tonight, light a few candles, and continue reading! I don't know too much about this story, besides what I read in the first few chapters, and that my best friend really enjoyed it...which means a lot because she hates contemporary romance!
Have you read "To All The Boys I've Loved Before"? Let me know what you think in the comments, just no spoilers!