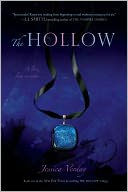 Title:
The Hollow.
Author:
Jessica Verday.
Series:
The Hollow Trilogy #1.
Format:
Paperback.
Pages:
528.
Source:
Purchased.
Publisher:
Simon Pulse.
Published Date:
8/3/2010.
Summary:
"When Abbey's best friend, Kristen, vanishes at the bridge near Sleepy Hollow Cemetery, everyone else is all too quick to accept that Kristen is dead?and rumors fly that her death was no accident. Abbey goes through the motions of mourning her best friend, but privately, she refuses to believe that Kristen is really gone. Then she meets Caspian, the gorgeous and mysterious boy who shows up out of nowhere at Kristen's funeral, and keeps reappearing in Abbey's life. Caspian clearly has secrets of his own, but he's the only person who makes Abbey feel normal again...but also special.

Just when Abbey starts to feel that she might survive all this, she learns a secret that makes her question everything she thought she knew about her best friend. How could Kristen have kept silent about so much? And could this secret have led to her death? As Abbey struggles to understand Kristen's betrayal, she uncovers a frightening truth that nearly unravels her—one that will challenge her emerging love for Caspian, as well as her own sanity."
Cover:
I really liked the font used to write The Hollow, and I liked the dark purple used for the background. But before reading The Hollow, I wasn't exactly sure what the necklace was, my guesses were, that her best friend left it for her, or she was a princess in another world.
But actually it's a gift to Abbey from this mysterious boy she meets, named Caspian, who she quickly has feelings for.
I like the cover, but I really have to say, the last book in the trilogy is my favorite cover(:
My Thoughts:
What would you do if your best friend pasted away mysteriously? What would you do if kids at school were teasing and telling you to just get over it? What would you do if you had future plans made with that person? Would you continue through with them?
This happens to be exactly what Abbey is going through, in The Hollowed. She's just a teenage girl, a junior, she enjoys making perfumes and later wants to make a living out of doing so. Her best friend Kristen passed away a few months ago, she drowned in the river which used to be Abbey's and Kristen's place to hang out and just be with each other.
After this horrible lose, Abbey is forced to move on, but promising Kristen and herself to never forget about her and the memories they had together.
Throughout the story Abbey runs into this mysterious guy not once, but twice. The first time at the cemetery during Kristen's burial, and later that day, at Kristen's house. Abbey finally gets the chance to talk to him, when she's looking for a place to be alone, and away from everybody else.
Out of nowhere he is sitting across the room, looking at her, blending in with the darkness.
Abbey starts to have feelings for this boy, his name is Caspian. Never having a boyfriend, she isn't exactly sure how to talk to him, what to do, or how to feel. But all she knows is he is the sweetest guy, and that she wants to be with him.
Caspian is a bit strange, never going over to Abbeys house, or letting her come to his. He doesn't give her, his phone number, and whenever they say their good byes, he promises to see her very soon.
I honestly thought Caspian was the CUTEST guy! He seemed soo sweet and perfect, and it made me happy to see Abbey with him, after everything that happened with Kristen, and the cheerleaders at school. I was really happy that she had something to look forward too.
I've never really heard of The Hollow, before I saw it sitting on the bookshelf at Barnes and Noble. But I really liked the summary on the back cover of the book, and decided to pick it up anyways. I loved the whole story, I loved the main character Abbey, and even though I wish we could of learned more about both Kristen and Caspian, the story was great!
Thid book is the first to a trilogy, so I hope to learn more about all of it's characters in the next two books!
Thank you so much for stopping by, and I hope to see you again soon!