What am I reading? & What did I recently finish?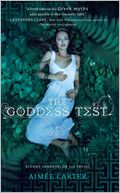 I'm actually just finishing both Anna and the French Kiss by Stephanie Perkins, and The Goddess Test by Aimee Carter!
I love both of them, and my reviews will be up before this tuesday(:
What am I going to read next?
Since I'm finishing up The Goddess Test, and I'm enjoying it! I decided to read the second book, Goddess Interrupted, right away! I can't wait to see what happens to Kate and Henry(: