So this week has been so busy! ACT was Saturday, Valentines is tomorrow, and my Anniversary is this Saturday, so I've been scrambling the last few days to get everyone's gifts together and ready to go!
But what that means, is I'm behind on my To Be Read for this month! Which only leaves room for improvement! I plan on finishing and reviewing by Wednesday...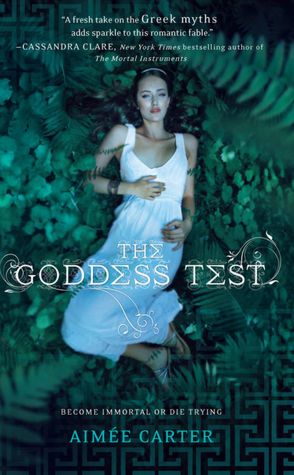 Goddess Test, by Aimee Carter.
"It's always been just Kate and her mom—and her mother is dying. Her last wish? To move back to her childhood home. So Kate's going to start at a new school with no friends, no other family and the fear her mother won't live past the fall.
Then she meets Henry. Dark. Tortured. And mesmerizing. He claims to be Hades, god of the Underworld—and if she accepts his bargain, he'll keep her mother alive while Kate tries to pass seven tests.

Kate is sure he's crazy—until she sees him bring a girl back from the dead. Now saving her mother seems crazily possible. If she succeeds, she'll become Henry's future bride, and a goddess."