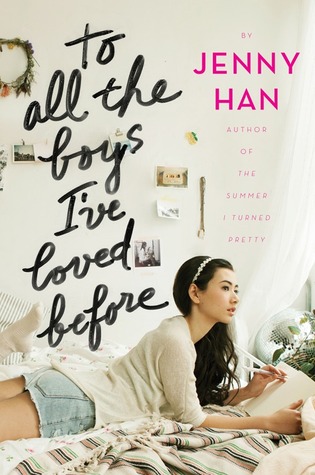 To All The Boys I've Loved Before, by Jenny Han.
"
To All the Boys I've Loved Before is the story of Lara Jean, who has never openly admitted her crushes, but instead wrote each boy a letter about how she felt, sealed it, and hid it in a box under her bed. But one day Lara Jean discovers that somehow her secret box of letters has been mailed, causing all her crushes from her past to confront her about the letters: her first kiss, the boy from summer camp, even her sister's ex-boyfriend, Josh. As she learns to deal with her past loves face to face, Lara Jean discovers that something good may come out of these letters after all.
"
To All the Boys I've Loved Before was a book that was on my radar for a while, until I decided to finally bite the bullet and give it a try. I originally just wasn't sure if I would love it. Before picking it up, I went through a few contemporary romance novels, and just didn't enjoy them as much as I hoped and as much as everyone around me seemed to. Summer was coming to an end, the contemporary romances I was reading were crap, and I was ready to start moving on to deeper and more dense books for the fall.
What lead me to the tipping point, and forced me to go out and pick up To All The Boys I've Loved Before, was my best friend. She never reads contemporary romance, but some how ended up with this book in her hands, and she absolutely loved it. She thought it was fun, cute, and corky. The fact that she doesn't like contemporary romance, but ended up loving this book, I knew I had get my hands on a copy.
I wasn't exactly sure what I was getting myself into, expect for the fact that the main character, Lara Jean writes letters to her crushes, and then simply moves on. Obviously, she never sends off these letters, and they're more for herself, than anyone else. From that, I assumed that they would somehow be sent off, and she would have to deal with the consequences of all of most inner thoughts and feelings be exposed to all of her past crushes.
But the story doesn't entirely focus on just this idea, but instead a whole different issue in itself. One of the letters is actually to her neighbor, Joshua, who Lara Jean had a long time crush on. He's been around for a while, always hangs out at her house, and is not only good friends with her, but also her dad and her sisters....the only thing that I forgot to mention is that Joshua is now dating Lara Jean's older sister, and has a steady relationship going.
Lara Jean continues to have these feelings for Joshua, but can't truly explain them. She would never want to hurt her sister, or even Joshua, so she has to come up with a plan...to either get the letter back, or explain to him that it was from a long time ago, and those thoughts and feelings aren't relevant anymore.
Sounds easy? Sure. Does it end up going smoothly? No. Before she knows it Lara Jean is pretend dating one of the cutest guys in her high school, and avoiding, her once best friend, at whatever cost. While Peter isn't the douche bag guy, she just always assumed him to be, she actually finds herself having fun "pretend" dating him. He seems to be much more sensitive and sincere, than she ever thought possible.
Pretending dating the hottest guy in school, making his ex-girlfriend jealous, avoiding Joshua, missing her older sister, and taking care of her baby sister and dad is a lot to handle for Lara Jean...it would be for everyone. But she needs to figure something out, and she needs to figure it out quickly..
Overall, I really enjoyed To All The Boys I've Loved Before. I fell in love with Joshua instantly, but soon loved Peter even more. Lara Jean and her relationship with her sisters made me want to have sisters, to share everything with. The characters were amazing, the story was fun and cute, and the ending left me craving the next book.
If you haven't picked up To All The Boys I've Loved Before, I recommend doing so now! It's a feel good story, and I promise you won't regret a thing!