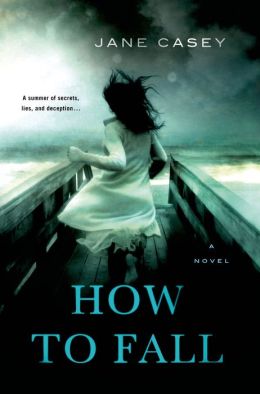 Title:
How to Fall.
Author:
Jane Casey.
Summary:
"Sixteen-year-old Jess Tennant has never met any of her relatives, until her mom suddenly drags her out of London to spend the summer in the tiny English town where her family's from. Her mom's decision is surprising, but even more surprising is the town's reaction to Jess. Everywhere she goes, people look at her like they've seen a ghost. In a way, they have—she looks just like her cousin Freya, who died shortly before Jess came to town.
Jess immediately feels a strange connection to Freya, whom she never got to meet alive. But the more Jess learns about the secrets Freya was keeping while she was alive, the more suspicious Freya's death starts to look. One thing is for sure: this will be anything but the safe, boring summer in the country Jess was expecting."
Release Date:
8/26/14.
Why I'm Waiting:
With summer ending, and fall just around the corner, I'm already on the hunt for some darker, mysterious kind of reads. Reads that I cant stay up all night reading, tucked safely into bed, with a cup of pumpkin spice latte and a pumpkin candle burning.
I know it's only mid August, but I'm already SO SO excited!
How to Fall sounds the perfect way to kick off my fall reading! Jess doesn't know anything about her family, until her mom takes her to the small town where she's from, just a few days after her cousin dies. People give her strange looks, and the death of her (similar looking) cousin starts to look much more suspicious!
Excited to get my hands on this one!