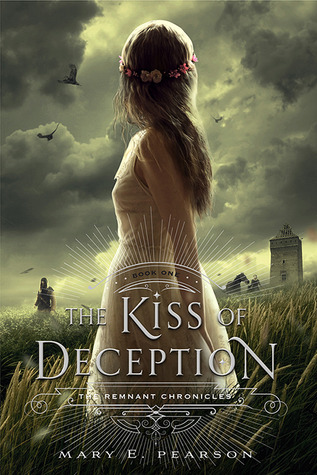 Title:
The Kiss of Deception.
Author:
Mary E. Pearson.
Summary:
"A princess must find her place in a reborn world.
She flees on her wedding day.
She steals ancient documents from the Chancellor's secret collection.
She is pursued by bounty hunters sent by her own father.
She is Princess Lia, seventeen, First Daughter of the House of Morrighan.
The Kingdom of Morrighan is steeped in tradition and the stories of a bygone world, but some traditions Lia can't abide. Like having to marry someone she's never met to secure a political alliance.
Fed up and ready for a new life, Lia flees to a distant village on the morning of her wedding. She settles in among the common folk, intrigued when two mysterious and handsome strangers arrive—and unaware that one is the jilted prince and the other an assassin sent to kill her. Deceptions swirl and Lia finds herself on the brink of unlocking perilous secrets—secrets that may unravel her world—even as she feels herself falling in love."
My Thoughts So Far:
When I first picked this book up, I didn't think much about it. Why? Because I read The Adoration of Jenna Fox, by Mary E. Pearson and simply did not enjoy it. I know a lot of people did (so it might just be me), but I didn't, so I didn't continue on with the series.
But after giving the synopsis another read and the cover another glance, I figured I didn't have anything to lose, and gave it a try.
Now with only fifty or so pages left, I'm dying to see what happens to Lia, and what life altering decisions she has to make, after running away from the arranged marriage her royal parents had set up, with the prince of the neighboring kingdom. Lia was able to run away successfully, even with her dad's soldiers, and bounty hunters chasing after her. But would Lia be willing to give all that up if it meant saving the people she loved? That she cared SO much for?
Such a good read! The Kiss of Deception will the book I recommend to all my friends and family when they ask me what they should read next! I loved it and I'm happy I decided to give it a read!