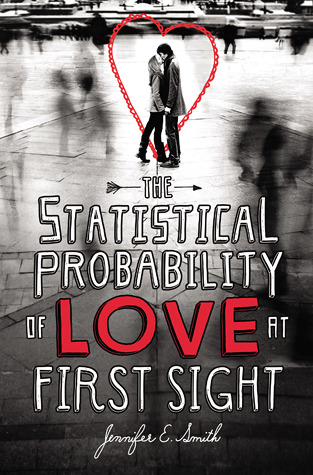 Title:
The Statistical Probability of Love at First Sight.
Author:
Jennifer E. Smith.
Series:
No.
Pages:
236.
Source:
Purchased.
Publisher:
Poppy.
Publisher Date:
1/1/11.
Links:
Book Depository
Goodreads
Summary:
"Who would have guessed that four minutes could change everything?
Today should be one of the worst days of seventeen-year-old Hadley Sullivan's life. Having missed her flight, she's stuck at JFK airport and late to her father's second wedding, which is taking place in London and involves a soon-to-be stepmother Hadley's never even met. Then she meets the perfect boy in the airport's cramped waiting area. His name is Oliver, he's British, and he's sitting in her row.
A long night on the plane passes in the blink of an eye, and Hadley and Oliver lose track of each other in the airport chaos upon arrival. Can fate intervene to bring them together once more?
Quirks of timing play out in this romantic and cinematic novel about family connections, second chances, and first loves. Set over a twenty-four-hour-period, Hadley and Oliver's story will make you believe that true love finds you when you're least expecting it."
My Thoughts:
Jennifer E. Smith has published quite a few books, which many have very, very good ratings on Goodreads. So I knew I had to FINALLY pick up one of her books, and The Statistical Probability of Love at First Sight was the one I chose!
The Statistical Probability of Love at First Sight follows Hadley Sullivan on her trip to London, to attend her dad's wedding. She hasn't seen him in over a year, and still doesn't want to. Hadley has never even meet the women who is soon to be her "step mother", and again...doesn't want to. But she's on her way to the airport because her mom pushed her to go, in the slight chance that "she might regret not going".
By four minutes, two hundred and forty seconds, Hadley misses her flight. Everything that could go wrong, while getting ready that morning, did. But lucky enough, Hadley was able to get onto another flight, but unlucky it wasn't leaving for another few hours, and wouldn't arrive until two hours before the wedding.
Waiting on her plane, Hadley bumps into a really cute British guy, named Oliver, who is one her new flight. They wait for the boarding together, and even go to have a bite to eat. Oliver and Hadley spend the entire flight talking, and connecting, Hadley couldn't imagine what smelly or snoring person she would have sat next to in her old plane. She was grateful for Oliver.
But once the plane lands, both know that they have to do separate ways, but it doesn't become real to either of them yet, until they get pulled apart and lost in the airport. Hadley now has to face this wedding on her own, and with almost no time, has to run to the church.
Hadley expects the absolute worst to happen on this wedding day, but she doesn't know of the happiness that might lay before her. And that she might get the chance to see Oliver again...
Final Verdict:
First off, the cover! Is it not the most beautiful and fun thing you've ever seen? I love! I think it's different, and I can't get enough of how the font really pops from the gray background!
The Statistical Probability of Love at First Sight was an enjoyable read, and perfect if you're looking for something a bit lighter, but still with some tougher elements to it. While the majority of the book focuses on this bond Oliver and Hadley create during their flight, it also has smaller points such as Hadley's struggle with her father and his new marriage, and Oliver's with his father.
I like that it doesn't completely revolve around this "relationship" between Hadley and Oliver, but the issues that arise are more focused on them individually.
The story started off a bit odd for me. Not in a bad way, but I guess I wouldn't have done some of the things Hadley did. For example, I wouldn't have gone to the wedding. If my dad hasn't bothered to see me in over a year, and then decided to invite me to his wedding, there's no way I would go. Where was he the last twelve months, when I might have needed him? I also would have never done that to my mom, who actually was there during those months.
And second, I wouldn't have had an argument with my mom, the way Hadley did with hers, because of two reasons, it's disrespectful and because my mom would have given me the option to stay or go. But I guess that's just because I have a different way of thinking than Hadley, and also I have never been in that kind of situation.
Overall The Statistical Probability of Love at First Sight was a really GOOD read! Even though I didn't agree with some of the things Hadley chose to do, I felt like I could easily connect with her. While there was a lot of struggle, and a bit of heartache, the ending was happy, which I also liked.
If you haven't read this one, I recommend squishing it in before the summer is over!