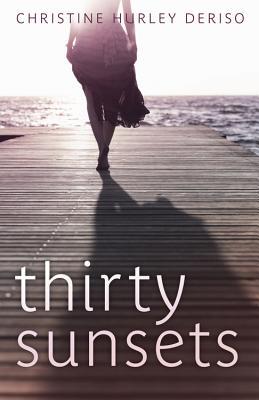 Title:
Thirty Sunsets.
Author:
Christine Hurley Deriso.
Series:
No.
Pages:
226.
Source:
Netgalley, for Review.
Publisher:
Flux.
Published Date:
7/8/14.
Links:
Book Depository
Goodreads
Summary:
"To Forrest Shephard, getting away to the family's beach house with her parents and her brother, Brian, is the best part of every summer. Until this year, when her mother invites Brian's obnoxious girlfriend, Olivia, to join them. Suddenly, Forrest's relaxing vacation becomes a mission to verify the reality of Olivia's rumored eating disorder. But the truth behind Olivia's finicky eating isn't at all what Forrest expected. And over the next thirty days, Forrest's world is turned upside down as her family's darkest secrets begin to come to light."
My Thoughts:
Thirty Sunsets revolves around Forrest Shephard and her month long family vacation to their beach house. But this summer's vacation isn't like the last year's or any year before that, actually. It's different this time, because her brother is different this time.
Since he started dating Olivia, Forrest's biggest bully and enemy, Brian has completely changed. He isn't as close to Forrest as they were before, he isn't going to medical school like he ALWAYS dreamed of and worked so hard to achieve. He even threw away the acceptance letter right after opening, claiming that he wants to do something else. Now all he seems to care about and focus on is his girlfriend, and Forrest doesn't understand why.
Its the summer, and even though Forrest's best friend wasn't able to make it on the trip, Forrest is still pretty excited to go, and get away from all the drama that's going on around her. She's happy to be with just family, and on the sunny beach for next thirty days.
But all that goes down the drain when Olivia informs Forrest that she'll also be going on the trip and staying the entire month with them...and if that wasn't bad enough, Forrest and Olivia even have to share a room!
Forrest doesn't know much about Olivia, and her relationship with Brian, but spending thirty nights and days together, she learns that Olivia has so much more going on that Forrest could never even have fathomed...
Final Verdict:
This book couldn't have come to me at any better time, it's almost magical. While my brother's new girl friend isn't a bully or rude, or mean, or anything like that. I am having to get used to having her around. Its this weird situation, where I see how much we grew up, how different he and I are, and how much our lives and relationship with each other has changed. Thirty Sunsets shows a lot of that between Forrest and Brian, and Olivia and Brian.
Besides the outstandingly beautiful cover, the synopsis also suckered me in on this one. I was excited to finally give this one a read, and to see what was hiding behind this gorgeous cover!
I absolutely love Forrest! I felt like I could relate with her perfectly when it came to certain things, and liked how close she was with her brother. It was obvious he meant a lot to her, and that she cared so much about him.
There were so many different emotional aspects in this book, from Olivia and Brian's relationship and struggle, to that of her mom and Forrests differences with Olivia, and the horrible situation Forrest had to endure at the beach one night. There were just so many elements in Thirty Sunsets that I wasn't really expecting, but absolutely loved!
Thirty Sunsets looks and feels like a light summer read, but it holds SO MUCH more than that!