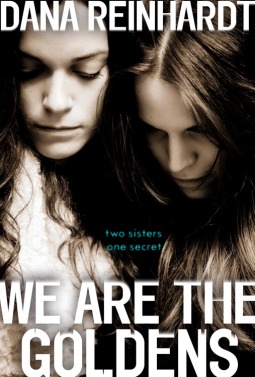 Title:
We Are The Goldens.
Author:
Dana Reinhardt.
Series:
No.
Pages:
208.
Source:
Netgalley, for Review.
Publisher:
Wendy Lamb Books.
Published Date:
5/27/14.
Links:
Book Depository
Goodreads
Summary:
"Nell knows a secret about her perfect, beautiful sister Layla. If she tells, it could blow their world apart.
When Nell and Layla were little, Nell used to call them Nellayla. Because to Nell, there was no difference between where she started and her adored big sister ended. They're a unit; divorce made them rely on each other early on, so when one pulls away, what is the other to do? But now, Nell's a freshman in high school and Layla is changing, secretive. And then Nell discovers why. Layla is involved with one of their teachers. And even though Nell tries to support Layla, to understand that she's happy and in love, Nell struggles with her true feelings: it's wrong, and she must do something about it."
My Thoughts:
Nell and Layla are SUPER close sisters! And when they were younger they were practically inseparable and tied at the hip. Nell not only adores her older sister, but looks up to her. Nell considers her sister perfect, and absolutely amazing at anything she does.
But when Layla starts becoming distant, Nell doesn't really know why; she basically narrates We Are The Goldens to her sister. Each chapter is almost written as a diary or a letter to her sister.
While Layla is acting distant, strange and isn't really opening up about what's going on, not even to her sister, Nell starts to notice a few gaps in her stories. And even hears rumors floating around in school...
Each and every year there are rumors of some student dating a teacher, but when Nell hears that her sister might be this year's, she can't believe her ears. But looking a little bit deeper she realizes that Layla is webcaming with him, and canceling family vacations to go on a secret date to the museum.
Nell doesn't really understand what's going on between Layla and this teacher, but she sees that Layla really has feelings for him. She doesn't like it, but she also won't rat out her own sister. Nell is there for her no matter if Layla is dating a teacher, or even if she is going through a lot more, like an abortion...
Final Verdict:
I have to admit, the narration in We Are The Goldens was a bit weird for me. I understood right away that Nell was basically talking to her sister, but I guess it kind of threw me off a bit. I did get into the groove of things after a few chapters and I didn't mind it as much anymore.
Nell and Layla were such good sisters. While we see Layla lacking on her end of the friendship during the story, we definitely see Nell making up for it.
We Are The Goldens completely revolves around these two sisters and their relationship, through all kinds of struggles. It was so meaningful, and loving; I couldn't get enough. It really made me wish that I had a relationship like theirs, with either my brother or my cousins. It was amazing to see how much one of them would do for the other!
Overall, I REALLY enjoyed this book. We do know about a lot of the stuff that's going to happen in the book, but there were a few small surprising events that took my breath away. I was in this one for the relationship and I got to see a lot of it!
If you're looking for a book about love, friendship and sisters, We Are The Goldens is the book for you!