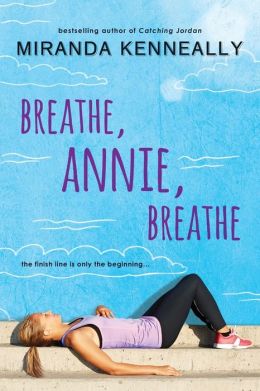 Title:
Breathe, Annie, Breathe.
Author:
Miranda Kenneally.
Summary:
"The finish line is only the beginning...
Annie hates running. No matter how far she jogs, she can't escape the guilt that if she hadn't broken up with Kyle, he might still be alive. So to honor his memory, she starts preparing for the marathon he intended to race.
But the training is even more grueling than Annie could have imagined. Despite her coaching, she's at war with her body, her mind-and her heart. With every mile that athletic Jeremiah cheers her on, she grows more conflicted. She wants to run into his arms...and sprint in the opposite direction. For Annie, opening up to love again may be even more of a challenge than crossing the finish line."
Release Date:
7/15/14.
Why I'm Waiting:
Miranda Kenneally is the author of the Catching Jordan, Racing Savannah, Stealing Parker and Things I Can't Forget, and Breathe, Annie, Breathe is her newest release. I haven't read any of her books, but have heard SUCH good things, especially about Catching Jordan.
Breathe, Annie, Breathe sounds like a heartfelt book, with so much love. I couldn't imagine what Annie must be feeling, when she blames herself for the death of her ex-boyfriend. I think its absolutely INCREDIBLE that she would practice and prepare to run the marathon that he was planning to take park in.
Sounds really good! I've been meaning to pick up some Kenneally books!