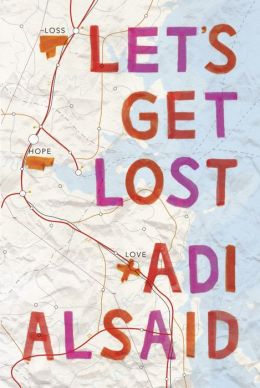 Title:
Let's Get Lost.
Author:
Adi Alsaid.
Summary:
"Five strangers. Countless adventures.One epic way to get lost.
Four teens across the country have only one thing in common: a girl named Leila. She crashes into their lives in her absurdly red car at the moment they need someone the most.
There's Hudson, a small-town mechanic who is willing to throw away his dreams for true love. And Bree, a runaway who seizes every Tuesday—and a few stolen goods along the way. Elliot believes in happy endings…until his own life goes off-script. And Sonia worries that when she lost her boyfriend, she also lost the ability to love.
Hudson, Bree, Elliot and Sonia find a friend in Leila. And when Leila leaves them, their lives are forever changed. But it is during Leila's own 4,268-mile journey that she discovers the most important truth—sometimes, what you need most is right where you started. And maybe the only way to find what you're looking for is to get lost along the way."
Release Date:
7/29/14.
Why I'm Waiting:
What's a better read for the summer, than a road trip book? Nothing. July is almost over, and I have yet to pick up a book that takes place during a road trip. Let's Get Lost seems to be the perfect choice! The cover is really cute, and the synopsis is interesting.
I'm not really sure how the story works, four characters become friends with another, and the fifth character somehow leaves, just to realize everything she's been looking for, was in front of her the entire time. The part that suckers me in the most, is that each of these teenagers has gone through one thing or another, and this road trip changes everything for them.
I don't know if or when I'll be picking it up, but obviously it's going onto my wishlist! Sounds SO GOOD!
Have you heard anything about this book? Have you read it?