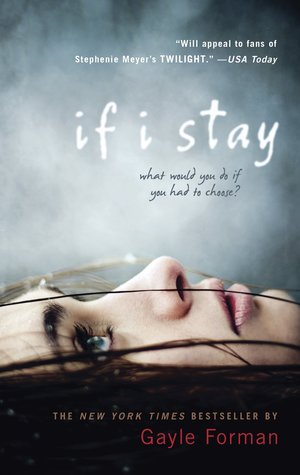 Title:
If I Stay.
Author:
Gayle Forman.
Series:
Yes, #1.
Pages:
262.
Source:
Purchased.
Publisher:
Speak.
Published Date:
5/6/10.
Links:
Book Depository
Goodreads
Summary:
"On a day that started like any other,
Mia had everything: a loving family, a gorgeous, admiring boyfriend, and a bright future full of music and full of choices. In an instant, almost all of that is taken from her. Caught between life and death, between a happy past and an unknowable future, Mia spends one critical day contemplating the only decision she has left. It is the most important decision she'll ever make.
Simultaneously tragic and hopeful, this is a romantic, riveting, and ultimately uplifting story about memory, music, living, dying, loving."
My Thoughts:
If you don't already know, or haven't already heard me say it (and I don't know how you didn't, considering I said it like a MILLION times), If I Stay is coming out in theaters on August 22! And I don't know about you, but I am WAY too excited!
I've been meaning to start this duology for quite some time, but the trailer of the movie is what really motivated me. My best friend had read and LOVED it, AND the trailer was so good, so what other option did I have? I HAD to read it!
If I Stay follows the story of a teenage girl named Mia. Mia isn't anyone too different or exotic, but instead she's pretty normal. She has an awesomely cool family (mom, dad, and little brother), a VERY sweet rock band boyfriend (Adam), and loves playing the Cello (she's actually good at it too!).
Things are good for Mia; she can't really find anything to complain about.
But Mia's world quickly comes shattering down around her, when her family decides to head out on a snow day, to spend sometime together. Even with just an inch or two of snow on the road, their car loses control and crashes. Mia doesn't remember very much, but when she gets back up, she can still her the car radio playing music. Music that, not too long ago, her entire family was trying to decide which station to listen to.
But now her mom is laying here, having taken the worst of the hit, her dad over their with pink mush laying around him, and finally her little brother laying not too far from her own body...When Mia sees her own body laying on the ground she can't believe her eyes. She has no idea what's going on, she checks herself; Mia isn't hurt, and she isn't even covered in dirt or blood, she doesn't feel anything.
If I Stay follows Mia's out of body experience, and struggle to stay alive. And with the help and words of her loved ones, her grandparents and boyfriend, Mia makes it her own choice if she wants to stay alive, or to let everything go and be with her parents and Teddy.
Final Verdict:
If I Stay was such an emotional read, it's a roller coaster!
And I absolutely loved every single part of it! I strapped in, and had my hands in the air the entire time!
First things first, the organization. The way this story was laid out, really stuck to me. I liked that it didn't waste our time, but instead it just went right to work. Something huge happened within just a few pages. But wait! You don't know anything about the main character and her family...and now, they're all dead.
NO WORRIES!
Gayle Forman handled all that! Instead of getting to know the characters towards the beginning of the book, we (the readers) get to witness Mia's flash backs. Each is important; we are introduced to her parents, her relationship with her little brother, Adam, and her best friend. Anything and everything you need to know about, is brought up exactly when you need it!
Gayle Forman doesn't beat around the bush, but gets right to work. LOVE!
Besides the AWESOME layout, If I Stay had a great cast of characters. Mia was down to earth and relatable. Adam was fun, smooth and sweet; he was perfect for a girl like Mia. Mia's parents, were cool! Yes, COOL!
We don't get to know too much about Adam and his thoughts, except for what Mia tells us, or what he says to the unconscious Mia. But, having already read Where She Went, Adam plays a MUCH bigger role then!
Overall, If I Stay was a fantastic read. I would recommend reading this one at home, alone...with a few boxes of Kleenex.. There is just so much love and loss in this book, it's absolutely exceptional!