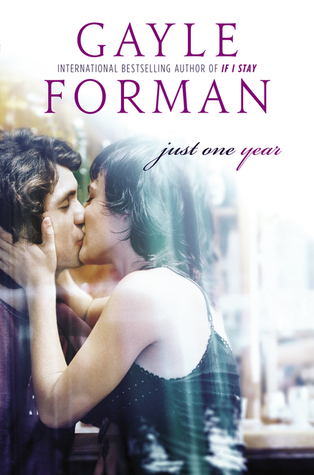 Title:
Just One Year.
Author:
Gayle Forman.
Series:
Yes, #2.
Pages:
336.
Source:
Purchased.
Publisher:
Dutton Children's.
Published Date:
10/10/13.
Links:
Book Depository
Goodreads
Summary:
"When he opens his eyes, Willem doesn't know where in the world he is—Prague or Dubrovnik or back in Amsterdam. All he knows is that he is once again alone, and that he needs to find a girl named Lulu. They shared one magical day in Paris, and something about that day—that girl—makes Willem wonder if they aren't fated to be together. He travels all over the world, from Mexico to India, hoping to reconnect with her. But as months go by and Lulu remains elusive, Willem starts to question if the hand of fate is as strong as he'd thought. . . .
The romantic, emotional companion to Just One Day, this is a story of the choices we make and the accidents that happen—and the happiness we can find when the two intersect."
My Thoughts:
Willem was a very mysterious character in Just One Day, and just like Allyson, the reader doesn't know very much about him. Willem is so different and spontaneous, and ALWAYS in the need of a new adventure!
Just One Year, tells us the same story of Just One Day all over again, except this time in Willem's perspective. The story starts from the morning that he decides to leave Lulu behind to go out, what actually happened that caused him not to come back, and even what he did that entire year that Allyson spent off trying to survive her mom and college.
In this story Willem opens up, tells us what he thinks and shows us his emotional side. He get to learn a lot more about this mysterious unknown character, and about his past. We learn that he lost his father a few years back, that his mom has left him to go to India, that he has been with a uncountable amount of girls. We finally get to see who Willem is from his angle, and not just Allyson's.
Just One Year was another emotional read, but this time not only about relationship and love, but much more about family and friends. While Allyson's perspective was focused on mainly love, with a dash of family/friends, Willem's was the opposite.
The story ends on the same note that Just One Day did, but again, Willem's experience instead of Allyson's.
Overall:
I would have to say that I was a little disappointed twice throughout this story; the beginning and end. The beginning, because I was expecting the story from Just One Day to continue, so I could see what would happen next. And the end, because of the same reason, I was praying that the story would take the end much farther. I guess I was just a little heart broken that I didn't get to see more of Willem and Allyson together.
But even with that, I still enjoyed the story. It was a bit slower, but I think I really liked that the story wasn't COMPLETELY revolved around Willem thinking about Allyson, but more about discovering himself.
If you haven't picked these ones up yet, and would like to have the chance to win my very own copies, I am hosting a giveaway right now! So feel free
TO ENTER!