Welcome to Turning Pages!
It's not just me today, but instead I have a guest here, and ready to answer a few interview questions about herself and her writing. Please welcome Ginger Scott, the author of the Waiting on the Sidelines series, How We Deal With Gravity and Blindness!
1. Can you please tell us a little about yourself, and about Waiting on the Sidelines?
Let's see…who am I? I'm an Arizona girl. I was born here, raised here, graduated from ASU (fork 'em Devils) and live here still. It isn't that I don't love the other ends of the United States, but Arizona is just home. I'm a hopeless romantic, and my favorite books and movies are the ones that make me swoon and feel. And sometimes cry. My favorite books (because I can never pick one) are 'Friday Night Lights', 'Prep' by Curtis Sittenfeld and 'Beautiful Disaster' for a more contemporary pick. I think Colleen Hoover is a genius, too, and I would give just about anything to have a book next to hers in a store one day.
Waiting on The Sidelines is a coming-of-age love story, and it's very real. When I wrote it, making sure the characters said things you would really hear in high school was very important to me. And creating characters that felt real, like they could be your friends, was central to the story. Waiting takes readers along for the ride as the main character Nolan Lennox, a tomboy with a boy's name, navigates the tough social path of being a teenager in a town where football reigns, beauty comes first, and money makes you popular. But Nolan isn't weak--she knows who she is and she never falters. But she still feels the sting that comes with not always being proud of where you come from. The story begins with Nolan's first introduction to high school and the boy who would dominate her heart for the next four years--Reed Johnson, the hometown legacy quarterback who walks the line between being a good guy and being a typical guy. Told over four years, readers get to watch Nolan and Reed grow, and fall in love in a very real and natural way. It isn't a fairy tale and neither of them are perfect, but I think a lot of people see themselves in both characters. And I really couldn't ask for more.
2. What inspired you to start writing books? Have you always wanted to become an author?
I have wanted to be an author ever since I had an understanding of what an author was. 'Waiting on the Sidelines' was my debut in 2013, and it was the book I always wanted to write. I grew up loving coming-of-age stories, and I still remember the first time I read Judy Blume's 'Forever.' It was the first time I had read a story that felt like it was all about me and my friends. It was everything we felt, our thoughts and worries. And it didn't kid-glove things--it talked about sex, and regrets, and pushing yourself to do something too fast. And I wanted to write something like that.
3. Do you have any advice for aspiring writers?
Don't let fear stand in your way. That is my biggest regret. I am grateful for my time as a journalist, because I think it taught me a great deal about telling real and authentic stories. But I spent years being afraid of sharing my fiction with others, afraid they wouldn't like my stories or, worse, that I would write something and nobody would care. I have learned that there is always someone who cares. And reaching one reader makes it all worthwhile.
4. What were some bumps in the road that you faced writing Waiting on the Sidelines and Going Long? How did you overcome those?
I mentioned how important it was for me to make these stories feel very real. And sometimes, my characters, Reed in particular, say things that are painfully realistic. Prince Charming isn't perfect, and neither is Reed Johnson. I remember pacing late at night, sometimes into the wee hours of the morning, over a scene and what Reed was going to say and do. I went back and forth on a few, but ultimately I left them the way they came naturally--just like they would play out in real life. And I'm glad I did. Because in the end, I love Reed just the way he is. And the pay-off is getting to see everything amazingly good about him in Going Long.
5. How did you celebrate the release of your books?
With Waiting and Going, I threw a party. It was a book-signing party with some small dinner foods at a mom-and-pop restaurant in my hometown. It was one of the greatest moments of my life. I held a garden signing at one of my favorite local ice cream parlors when 'Blindness' came out--my New Adult romance follow-up to the Waiting series. And now, with 'How We Deal With Gravity' out for only a week or so, I'm ready to celebrate again. Gravity is my latest book and it's about a single mom of a child with autism and her second chance at love with the guy that stole her heart in high school. This book, of all of my stories, is my most precious, and I'm holding a signing to raise funds for a Phoenix autism center sometime in September. I'll be posting details on my site at www.littlemisswrite.com as the date gets closer.
6. If you had the chance to eat lunch with any fictional character, who would you choose and why?
I am going to give you two. First, I would love to have lunch with Buck Johnson from the 'Waiting on the Sidelines' series. Buck is so real and vivid in my mind, and I think actually getting to hang out with a good ole boy like Reed's dad Buck would be a day well spent. Now, getting away from my set of characters, I would have to choose Elizabeth Bennet from Pride and Prejudice because she is the ultimate strong woman, and I love every single thing about her.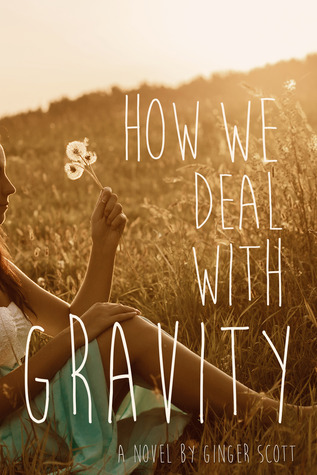 7. You have the opportunity to travel to the past, what would you tell your younger self?
Stop being so damned afraid and just do it already--finish writing that book and share it. People will like it, I promise!
8. Can you tell us anything about your upcoming book? Something that isn't in the synopsis?
My latest release, 'How We Deal With Gravity' is set in a real town. The bar where Avery and Mason fall in love again isn't real, but it would fit right in with the rest of Cave Creek, Arizona. It's a great town--very Western--and the main drag is cool as hell with biker and cowboy bars where cool local bands play gigs and locals crowd the streets on weekend nights.
Also, something I haven't talked about much yet: I have another romance coming out later this summer that 'Waiting' fans are really going to enjoy. It's set during a freshman year of college, and it's about an 18-year-old girl who is trying to find her own inner-strength again after overcoming a tragedy. During her journey she also finds love in the form of one hot college baseball player. "This Is Falling" will be out late summer, and I can't wait!
Thank you so much, Ginger, for coming by and answering some (A LOT) of my questions! I'm excited to get my hands on the rest of your books, since I completely fell in love with Waiting on the Sidelines and Going Long!