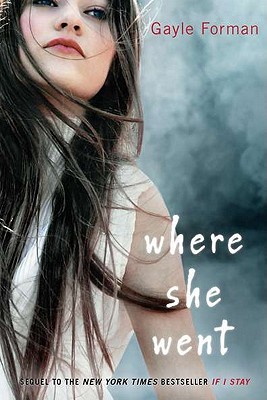 Title:
Where She Went.
Author:
Gayle Forman.
Series:
Yes, #2.
Pages:
264.
Source:
Purchased.
Publisher:
Dutton Juvenile.
Published Date:
4/5/11.
Links:
Book Depository
Goodreads
Summary:
"It's been three years since Mia walked out of Adam's life.
And three years he's spent wondering why.
When their paths cross again in New York City, Adam and Mia are brought back together for one life-changing night.
Adam finally has the opportunity to ask Mia the questions that have been haunting him. But will a few hours in this magical city be enough to lay their past to rest, for good - or can you really have a second chance at first love?"
My Thoughts:
August 22 is just around the corner, which means it's crunch time for those of you who want to desperately see the movie, but also want to find the time to read the book before hand. You have less than a month, get on it!
Where She Went is the second installment in Gayle Forman's duology, and takes place three years after Mia wakes up in the hospital. Mia is attending Julliard in New York, and is on her way to becoming on of the best cello players known to man! She is handling her loss, as good as anyone can, who has lost their entire immediate family.
Adam on the other hand has made it big with his band, and a HUGE rock star! But within only a year or so of fame under his belt, he is already struggling with the paparazzi and media. Adam also has a new girl friend, who is a actress...
Adam is leaving for his tour the next day, but when he sees that Mia, the amazing cellist, is playing in concert, he decides to buy a ticket, and hide in a far back row. But Mia hears rumors flying around that Adam, the rock star, is attending her concert, she decides to call him backstage after her show.
The two spend the night together, and Mia even shows him, her favorite places in New York. Things seem to be good, and both Adam and Mia are having fun. But Adam doesn't want to avoid the subject anymore, or try to push it from his mind...He wants to know why she left him, why she stopped replying to his messages and phone calls, why she just ended things with him.
....and three years later Mia, finally decides to tell him.
Final Verdict:
In If I Stay, the thing that bummed me out the most, was that we didn't get to see much of Adam. Yes, a few things here and there, and what he would say to Mia's unconscious body, but not much else. I was excited to see that this book was revolved around Adam's perspective, and that we, the readers, were allowed to witness his thoughts and feelings.
Towards the beginning of the book, I was a bit heart broken. Why? Because I thought Mia and James would never break up. I would have never seen it coming. They were so perfect for each other.
The break up wasn't really discussed towards the start of the story, instead we were given snippets here and there. I was PISSED that Mia ended things so strangely with Adam; never really giving him a straight answer or explanation. I couldn't imagine how Mia could do this to a guy "she loved" and who she was dating well over two years. It doesn't make sense to me. Even if she wanted to end things, you still spent the last two years of your life with him, doesn't she care about him at all?
But after reading Where She Went entirely, and Adam finally gets his explanation, it all makes sense. I see where Mia was coming from, but still didn't think she handled it the right way. But who knows what she was thinking at the time; she had just woken up in the hospital after a serious car accident, and her family was dead.
I was looking for a little bit of romance in If I Stay, and I got that through the flash backs. But I liked that the book was focused more on Mia. Where She Went on the other hand, was focused entirely on their relationship, that past and on making it work. I liked that as well.
Overall, Where She Went was also an EXCELLENT read! And if you're looking for something heartwarming, these books would be the ones to pick up!