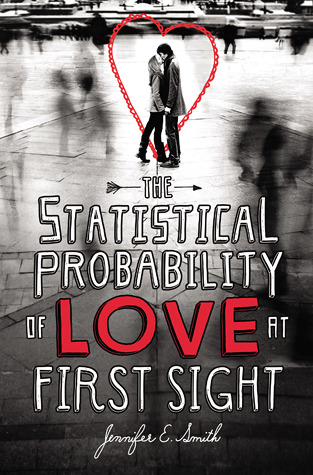 Title:
The Statistical Probability of Love at First Sight.
Author:
Jennifer E. Smith.
Summary:
"Who would have guessed that four minutes could change everything?
Today should be one of the worst days of seventeen-year-old Hadley Sullivan's life. Having missed her flight, she's stuck at JFK airport and late to her father's second wedding, which is taking place in London and involves a soon-to-be stepmother Hadley's never even met. Then she meets the perfect boy in the airport's cramped waiting area. His name is Oliver, he's British, and he's sitting in her row.
A long night on the plane passes in the blink of an eye, and Hadley and Oliver lose track of each other in the airport chaos upon arrival. Can fate intervene to bring them together once more?
Quirks of timing play out in this romantic and cinematic novel about family connections, second chances, and first loves. Set over a twenty-four-hour-period, Hadley and Oliver's story will make you believe that true love finds you when you're least expecting it."
My Thoughts So Far:
I'm about three fourths of the way finished with this book, and it has me sitting on the edge. I feel like I know what might happen, but I'm not sure.
Hadley hates flying, especially when everything seems to wrong the morning of, and she misses her flight by barely four minutes. She books herself a later flight, and bumps into this really cute guy, who happens to be on the same flight as her, to London. Both Hadley and Oliver are going to weddings that are taking place the next day.
While flying is Hadley's nightmare, especially being tucked in an airplane too tightly with other annoying, gross or weird people, flying and sitting next to Oliver isn't so bad. She even finds herself calm enough to fall asleep on his shoulder.
When the two get off, they are separated in the airport. Hadley can't find Oliver and decides to head off to the wedding, knowing she might not make it there on time. Even though she doesn't want to go, she also knows that one day she might regret not going to her dad's wedding.
The story quickly speeds up towards the last third of the book, and I'm excited to see what happens next and how things will end up. I have my guesses at where Oliver's wedding might be taking place, but I don't want to give anything away!
Loving it so far!