Title:
Nantucket Red.
Author:
Leila Howland.
Summary:
"Cricket Thompson's lifetime of overachieving has paid off: she's headed to Brown University in the fall, with a spot on the lacrosse team and a scholarship that covers almost everything. Who knew living in the dorm cost money? An Ivy League education seems to mean living at home for the next four years.
When Cricket is offered the chance to earn enough cash to afford a real college experience, she heads back to Nantucket for the summer. But the faraway island challenges Cricket in ways she hadn't anticipated. It's hard to focus on earning money for next year, when she finds her world opening up in entirely new ways-to art, to travel, and, most unexpectedly, to a future completely different from the one she has been working toward her whole life. A friendship blossoms with Ben, the gorgeous surfer and bartender who encourages Cricket to be free, even as she smarts at the pain of seeing Zack, her first love, falling for her worst enemy.
But one night, when Cricket finally lets herself break all her own rules, she realizes she may have ruined her carefully constructed future with one impulsive decision. Cricket must dig deep to fight for her future, discovering that success isn't just about reaching goals, but also about listening to what she's been trying to ignore-her own heart."
What I Think So Far:
So far? I'm sixty pages in, and my heart has been broken for the last thirty. There were some ups and downs in Nantucket Blue, but it ended on a really good note for Cricket! I was excited to see how things would continue to play out for Cricket and Zack, but within such a short amount of time, all those hopes have been crushed...
Cricket has just finished her last year of high school and is on her way to university. She's attending an expensive Ivy league school, but without staying in the dorms and with the help of scholarships, Cricket was able to afford it. It's summer time, and her step grandparents, promised Cricket, that if she earned eight thousand dollars during the next two and a half months, they would match that.
The only place Cricket knows where she can earn so much money, in such a small amount of time was Nantucket...
Nantucket...where Zack is spending his summer...with his new girlfriend...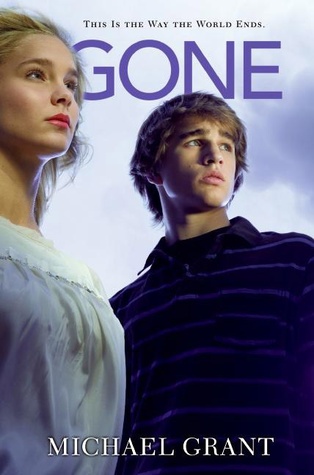 Title:
Gone.
Author:
Michael Grant.
Summary:
"In the blink of an eye, everyone disappears. Gone. Except for the young.
There are teens, but not one single adult. Just as suddenly, there are no phones, no internet, no television. No way to get help. And no way to figure out what's happened.
Hunger threatens. Bullies rule. A sinister creature lurks. Animals are mutating. And the teens themselves are changing, developing new talents—unimaginable, dangerous, deadly powers—that grow stronger by the day. It's a terrifying new world. Sides are being chosen, a fight is shaping up. Townies against rich kids. Bullies against the weak. Powerful against powerless. And time is running out: On your birthday, you disappear just like everyone else..."
What I Think So Far:
After devouring Messenger of Fear, and I knew I had to pick up more of Michael Grant's writing! AND what better book to start with than Gone?
This series is a bit of an older one, and a lot of people seem to really have enjoyed it! I was SO excited to pick up and start this series....that I put them ALL on hold in the library and pick them up the next day...