Welcome to Turning Pages!
Even though this week is a pretty busy one, with a few summer festivals going on in my local city and Fourth of July, I still have tons of free time, and hope to finish at least two books this week; the book I'm reading right now (which I'm a little over halfway through) and another.
But the book I'm currently reading is, The Peculars, by Maureen Doyle McQuerry! I've been at this book for quiet a long, it's taking me quiet a while. Not because it isn't good, but simply because I started reading it in the last few weeks of school, where I didn't have much time.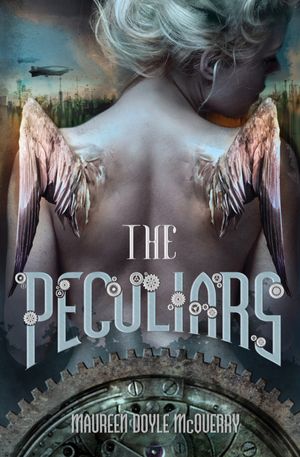 The Peculiars, by Maureen Doyle McQuerry.
"This dark and thrilling adventure, with an unforgettable heroine, will captivate fans of steampunk, fantasy, and romance. On her 18th birthday, Lena Mattacascar decides to search for her father, who disappeared into the northern wilderness of Scree when Lena was young. Scree is inhabited by Peculiars, people whose unusual characteristics make them unacceptable to modern society. Lena wonders if her father is the source of her own extraordinary characteristics and if she, too, is Peculiar. On the train she meets a young librarian, Jimson Quiggley, who is traveling to a town on the edge of Scree to work in the home and library of the inventor Mr. Beasley. The train is stopped by men being chased by the handsome young marshal Thomas Saltre. When Saltre learns who Lena's father is, he convinces her to spy on Mr. Beasley and the strange folk who disappear into his home, Zephyr House. A daring escape in an aerocopter leads Lena into the wilds of Scree to confront her deepest fears."
I hope to have my review up in the next two or three days, so make sure to stop by and check that out! If you have already read this book, and reviewed it yourself, please comment down below with a link to your review, I would love to see what you think!
Lisa