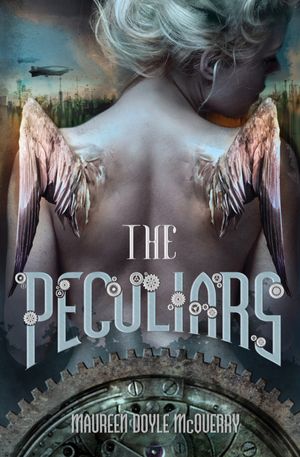 Title:
The Peculiars.
Author:
Maureen Doyle McQuerry.
Format:
ARC.
Pages:
368.
Source:
Kristen @Cubicle Blindness.
Publisher:
Amulet Books.
Published Date:
5/1/2012
Summary:
"This dark and thrilling adventure, with an unforgettable heroine, will captivate fans of steampunk, fantasy, and romance. On her 18th birthday, Lena Mattacascar decides to search for her father, who disappeared into the northern wilderness of Scree when Lena was young. Scree is inhabited by Peculiars, people whose unusual characteristics make them unacceptable to modern society. Lena wonders if her father is the source of her own extraordinary characteristics and if she, too, is Peculiar. On the train she meets a young librarian, Jimson Quiggley, who is traveling to a town on the edge of Scree to work in the home and library of the inventor Mr. Beasley. The train is stopped by men being chased by the handsome young marshal Thomas Saltre. When Saltre learns who Lena's father is, he convinces her to spy on Mr. Beasley and the strange folk who disappear into his home, Zephyr House. A daring escape in an aerocopter leads Lena into the wilds of Scree to confront her deepest fears."
Cover:
Sadly, I only have the ARC, meaning I don't have a copy of the final cover (that you see above). So if I judged the cover of The Peculiars by a 300 by 300 pixel image on my computer, I don't believe it would be fair, compared to actually holding a copy in my hands.
My Thoughts:
Before I start my review, I just want to say a quick thank you to Krista, over at Cubicle Blindness, for taking the time, and paying the shipping cost of sending me her extra copy of this book! I hope you check out her blog, Krista does amazing reviews, and insane book hauls; LOVE them!
The Peculiars are a group of strange deformed humans, that a lot of people don't believe exist anymore, or ever have, for that fact. Being charged as a Peculiar, means you are sent to Scree (the wilderness in the north) to work in the mines, never being able to own a mine, and working twelve hours a day; not ever seeing day light.
The main character, Lena, decides to set off a journey to Scree to find her father, after she received a letter and money from him on her eighteenth birthday. Throughout her adventure, Lean wonders and questions, if her deformities (extra knuckles in all of her fingers and toes) makes her like her father...like a Peculiar.
On her long train ride to Knoster, Lena meets a new friend, sharing the same train room, and even gets her bag, that contained the letter, a few important papers, and the money from her dad, stolen. After saying their goodbyes, the two friends later, bump into one another. Jimson and Lena catch up; he now works as a librarian in a grand house owned by a doctor, named Beasley. Knowing about Lena and her background experience of library skills and book knowledge, Jimson suggest she should ask Mr. Beasley for a job as well!
Working together side by side, in Beasley's library, these two friends make a few discoveries, that change their minds and opinions on Mr. Beasley. Could Mr. Beasley be holding Peculiars hostage or is he actually helping them? What does the journey and all of the sketches inside of it mean? Could Lena be a Peculiar as well? Will she ever get to Scree and find her father?
This book did take me a while to get through, not because it was slow or boring, but because I started reading towards the end of school, and during finals, so I barely had any time to pick it up and read. But once school ended, and I had a lot of time to myself, I just easily breezed through, and loved it!