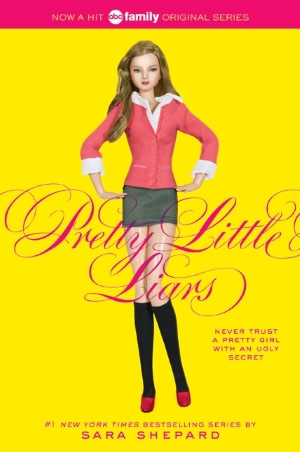 Title:
Pretty Little Liars.
Author:
Sara Shepard.
Format:
Paperback.
Pages:
304.
Series:
Yes, #1.
Source:
Purchased.
Publisher:
Hapercollins.
Published Date:
8/21/2007.
Links:
Goodreads.
Barnes and Noble.
Summary:
Barnes and Noble
"Gossip thrives amid the Mercedes-Benzes, mega mansions, and perfectly manicured hedges in the exclusive town of Rosewood, Pennsylvania. Behind their big Gucci sunglasses, beneath their perfectly pressed Polos, everyone has something to hide, especially high school juniors Spencer, Aria, Emily, and Hanna. Spencer covets her sister's gorgeous new boyfriend. Aria is having an affair with her English teacher. Emily is infatuated with the new girl at school. And Hanna is using some ugly tricks to stay beautiful. Deeper and darker still is a horrible secret the girls have shared since sixth grade -- a secret they thought was safe forever. Then the girls start receiving threatening messages signed by someone named "A." Could "A" be Alison, the ultra-popular girl who disappeared three years earlier? Alison was their best friend. She knew everything about them. But if Alison isn't "A," who is? And how could anyone else know so much about the bad girls they were and the bad girls they've become? Suddenly, their secrets -- the big ones, the little ones, even the long-buried ones -- no longer seem so secret. Suddenly, nothing is safe in Rosewood."
Goodreads
"Three years ago, Alison disappeared after a slumber party, not to be seen since. Her friends at the elite Pennsylvania school mourned her, but they also breathed secret sighs of relief. Each of them guarded a secret that only Alison had known. Now they have other dirty little secrets, secrets that could sink them in their gossip-hungry world. When each of them begins receiving anonymous emails and text messages, panic sets in. Are they being betrayed by some one in their circle? Worse yet: Is Alison back? A strong launch for a suspenseful series."
First Line:
"'Someone finally bought the DiLaurentises' old house,' Emily Fields's mother said."
Last Line:
"I'm still here, bitches. And I know everything. -A."
Cover:
I absolutely love the cover of every single book in this series; especially with all the differently colored backgrounds! They look GREAT together, as a series, sitting on my shelf, they look
bright
and
c
.
o
.
l
.
o
.
r
.
f
.
u
.
l
. (eye-catchers!! Yoo-hoo!)
My Thoughts:
Being my second time around reading the beginning of this (12 book, I think?) series, I loved it and enjoyed it just as much, if not more than the first time around! I haven't watched too much of the television series, (which is REALLY hard to resist!) besides the first three episodes, so it hasn't really spoiled anything for me.
*Starts humming* Got a secret, can you keep it, swear this one you'll save, better lock it in your pocket, taking this one to the grave!
Back in the summer, after their seventh grade year, these four girls lost one of their best friends; Alison DiLaurentis. Three years later, Emily (who now swims on their high school swim team, has a boyfriend named, Ben), Aria (who moved back from Iceland, after moving there during eighth grade), Hanna (who was over weight, but totally revamped herself and her new best friend, Mona) and Spencer (who still lives in her older sister, Melissa's shadow) still don't know what happened to their friend and the girls' once close relationships slowly faded over the years.
But these four girls aren't just any teenage girls, yes, they all dealt with a great loss, but besides the huge secret they all have in common, the girls each have their own...or two!
*MASSIVE SPOILER ALERT!! BEWARE!*
Emily kissed Ali, confessing her love for her. But now is having feelings for the new girl, Maya. Spencer who messed with Melissa's old boyfriend, Ian, and is now repeating history with Melissa's current boyfriend. Aria caught her dad kissing one of his college students, but is now crushing on her own teacher. And Hanna would make herself throw up just to get skinny, is now stealing from stores in the mall.
Not wanting these secrets (new and old) to get out, the four girls get paranoid when they each start to receive emails, text messages, or even notes from this mysterious "A" person, who is constantly taunting and threatening to bring out the truth!
What will the girls do? What happened to Alison? Who is A? Is Alison back? So MANY questions!?!
I honestly love this series, and can't wait to continue reading! If you're starting to run out of easy summer reads, these books fit the criteria!