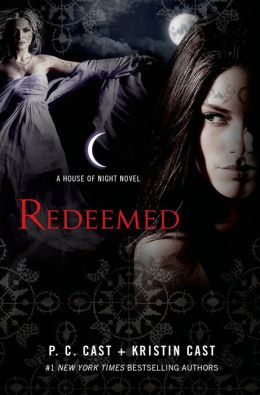 Title:
Redeemed.
Author:
P.C. & Kristin Cast.
Summary:
"Zoey Redbird is in trouble. Having released the Seer Stone to Aphrodite, and surrendered herself to the Tulsa Police, she has isolated herself from her friends and mentors, determined to face the punishment she deserves—even if that means her body will reject the change, and begin to die. Only the love of those closest to her can save her from the Darkness in her spirit; but a terrible evil has emerged from the shadows, more powerful than ever…
Neferet has finally made herself known to mortals. Crowning herself a Dark Goddess, she is evil unleashed and is enslaving the citizens of Tulsa. The vampyres of the House of Night have banded with the police, and are gathering every last resource they have, but they know that no single vampyre is strong enough to vanquish her—unless that vampyre has the power to summon the elements as well as the ability to wield Old Magick. Only Zoey is heir to such power…but because of the consequences of using Old Magick, she is unable to help.
In the final novel in the House of Night series, an epic battle of Light versus Darkness will decide who is redeemed…and who is forever lost."
Release Date:
10/14/14.
Why I'm Waiting:
Redeemed is the 12th (YES 12th!!) and finally installment in the Night of House series. As you may know, I'm only on the fourth or fifth book. Why? Because there are just so many other books to read. I actually really enjoy this series, and the main character, and ALL of the crazy weird things that ALWAYS happen to her.
So why am I waiting for this one if I still have 7 books in the series to read before I even get to Redeemed? Well my reason was that it might motive me to not only continue the series, but completely start over! Its been forever since I've read these books, and I would love to just marathon then ALL one day!