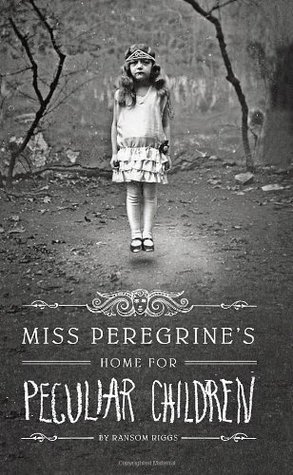 Title:
Miss Peregrine's Home For Peculiar Children.
Author:
Ransom Riggs.
Series:
Yes, #1.
Pages:
352.
Source:
Purchased.
Publisher:
Quirk.
Published Date:
6/7/11.
Links:
Book Depository
Goodreads
Summary:
"A mysterious island. An abandoned orphanage. A strange collection of very curious photographs.
It all waits to be discovered in Miss Peregrine's Home for Peculiar Children, an unforgettable novel that mixes fiction and photography in a thrilling reading experience. As our story opens, a horrific family tragedy sets sixteen-year-old Jacob journeying to a remote island off the coast of Wales, where he discovers the crumbling ruins of Miss Peregrine's Home for Peculiar Children. As Jacob explores its abandoned bedrooms and hallways, it becomes clear that the children were more than just peculiar. They may have been dangerous. They may have been quarantined on a deserted island for good reason. And somehow—impossible though it seems—they may still be alive.
A spine-tingling fantasy illustrated with haunting vintage photography, Miss Peregrine's Home for Peculiar Children will delight adults, teens, and anyone who relishes an adventure in the shadows."
My Thoughts:
Doesn't it seem like EVERY SINGLE PERSON ON PLANET EARTH HAS READ THIS BOOK??! Everyone! I swear, has picked up this book and read it! And finally, I, too, have picked it up, read it, and absolutely loved it!
...even though, it took me about a week and a half to finally start writing this review, it has nothing to do with the book itself, but my crazy schedule, and school...
If you don't know what this story is about, it basically revolves around a boy named Jacob, who recently lost his grand father due to a "monster" attack. Jacob was even the one who found him, and heard the last words he uttered, before he died that night in the forest.
Jacob remembers his childhood to be filled with amazing stories, with interesting people and creatures, that his grandfather would tell him all about. While he was still young, he fully believed each and every one of them, but as Jacob became older, and he need to believe started to fade, so did he's interest in hearing his stories.
But in those last few seconds of life, when Jacob's grandfather claimed that it was a monster who attacked him, Jacob couldn't help but wonder, maybe he was telling the truth all along. After cleaning out his grandfather's apartment with both his dad and his aunt, Jacob makes a few discoveries and a few connections between what he's grandfather said and did, that could change his life forever...
Final Verdict:
Let's all be honest! The pictures is what suckered us all into reading Miss Peregrine's Home For Peculiar Children. It's just the truth! I mean who could resist?
And again, to be honest, I wasn't sure how the author was going to pull together all of these random pictures and create a story through them, that actually makes sense and flows. I just couldn't imagine it working out as smoothly as it actually did. Besides the fact that everything fit together and worked well, the pictures were also creepy as hell! So weird, like where did Ransom Riggs even find these creepy things?
What stuck out the most to me, besides these weird photographs, were the weird characters! All of the main characters were children (at least most of them, besides the villains, Jacob's parents and a few other randoms). But they weren't just any children, they were children with strange powers and abilities, and they were children who also lived the same day over and over again, in a loop.
Creepy pictures? Super power kids? Time travel? AND demonic creatures? Could this story get any more interesting?!
Overall, Miss Peregrine's Home For Peculiar Children was such a different read. I picked up this book to read something strange, and weird and ultimately peculiar. I wanted my mind to be twisted and turned and rattled. I wanted something I hadn't had before...and Ransom Riggs gave me ALL of that and so much more!
I'm excited to get started on Hollow City very soon, but have you read Miss Peregrine's Home For Peculiar Children yet?!