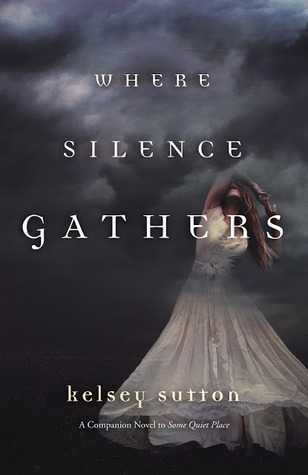 Title:
Where Silence Gathers.
Author:
Kelsey Sutton.
Series:
Yes, #2.
Pages:
360.
Source:
Library, Borrowed.
Publisher:
Flux.
Published Date:
7/8/14.
Links:
Book Depository
Goodreads
Summary:
"In this companion novel to the critically acclaimed Some Quiet Place, Alex must choose between Revenge and Forgiveness.
For as long as she can remember, Alexandra Tate has been able to see personified Emotions, and she's found a best friend in Revenge. He's her constant companion as she waits outside Nate Foster's house, clutching a gun. Every night since Nate's release from prison, Alex has tried to work up the courage to exact her own justice on him for the drunk driving accident that killed her family.
But there's one problem: Forgiveness. When he appears, Alex is faced with a choice—moving on or getting even. It's impossible to decide with Forgiveness whispering in one ear . . . and Revenge whispering in the other."
My Thoughts:
I originally picked this one up, because I LOVED Some Quiet Place! These two stories are honestly the strangest and most mind blowing books ever!
I assumed this book would take place right where Some Quiet Place ended, but I was wrong. While there were a lot of the similar elements in Where Silence Gathers, and we even got to hear a few snippets of Fear and Elizabeth, it was a completely different perspective.
Instead of following Elizabeth and Fear, Where Silence Gathers follows the perspective of Alexandra; she's a high school senior, living with her aunt and uncle, and still dealing with the loss of her parents and younger brother. Like Elizabeth, Alexandra can see the emotions and elements, but unlike Elizabeth, Alexandra can also feel them.
After the car accident that killed her entire family, years ago, Alexandra's life hasn't being going all that well. She's not really interested in school, she doesn't have any plans for after senior year, and when she isn't spending time with her two best friends, she's usually lost in her own thoughts.
Alexandra has seen Revenge since she was young, since the day that her family passed away. Since the day the intoxicated driver crashed into their car, and killed everything that was ever important to her. He first claimed to be her friend, but over the years their relationship has changed and becoming really strange and dynamic. Alexandra isn't sure sometimes if he really is her friend, or is just trying to do his job; make her seek revenge.
When Alexandra discovers that the drunk driver was released from prison, she can't help herself and head to his house. To see who he is, what he looks like, and what he's feeling.
She soon discovers that he is a sad man, filled with regret. But Alexandra struggles with the decision of choosing Revenge or Forgiveness....she spends most of the book considering her options.
Final Verdict:
My final verdict on Where Silence Gathers is that even though it wasn't the story I was expecting with the characters I was hoping for, I still LOVED it. I think even more than I would have if the story continued with Elizabeth and Fear. Why? Because I was given the same elements in the same world, but just from a different perspective.
To be honest, now that I think about it, I don't know how Kelsey Sutton could have continued the story between Elizabeth and Fear.
Again, the characters in Where the Silence Gather, were strange, interesting and had depth. Alexander wasn't shallow, and was really grieving the loss of her family, even years later. I liked that! I liked that it wasn't just something that happened and she moved on. I liked seeing her deal with tough situations, like the drunk driver being released from prison, and the struggle with her education and future.
While there seems to be a love triangle throughout the last half of the book or so, it's really not. Alexander is introduced to another emotion, that she just can't shake off; Forgiveness. There isn't too much romance in this story, simply because it's impossible...(you'll have to read the book to know why!)
Overall, Where the Silence Gathers was an amazing installment in the series. Kelsey Sutton has created the weirdest concept, and I couldn't get enough. Even after reading both of these books, I still can't wrap my mind around it.
Have you picked up Where the Silence Gathers? What did you think? Seeing emotions! CRAZY!