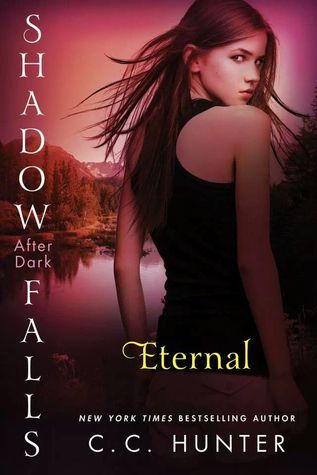 Shadow Falls: After Dark Book Two
"All her life, Della's secret powers have made her feel separated from her human family. Now, she's where she belongs, at Shadow Falls. With the help of her best friends Kylie and Miranda, she'll try to prove herself in the paranormal world as an investigator—all the while trying to figure out her own heart. Should she chose Chase, a powerful vampire with whom she shares a special bond? Or Steve, the hot shapeshifter whose kisses make her weak in the knees? When a person with dark connection to her past shows up, it'll help her decide which guy to choose–and make her question everything she knows about herself. "
"C.C. Hunter grew up in Alabama, where she caught lightning bugs, ran barefoot, and regularly rescued potential princes, in the form of Alabama bullfrogs, from her brothers. Today, she's still fascinated with lightning bugs, mostly wears shoes, but has turned her focus to rescuing mammals. She now lives in Texas with her four rescued cats, one dog, and a prince of a husband, who for the record, is so not a frog. When she's not writing, she's reading, spending time with her family, or is shooting things-with a camera, not a gun.
C.C. Hunter is a pseudonym. Her real name is Christie Craig and she also writes humorous romantic suspense romance novels for Grand Central."
My Review

:

With just finishing up Reborn and completely falling in love with the cast of characters, the mysterious crazy weird things happening, and with a whole different view on the paranormal society, I was dying to finally get started on Eternal!

There was so much I was looking forward to in this second installment, from many more sassy comments and thoughts from Della, to a softer side to Chase and a tougher side to Steve. Besides that I was ready to know what was truly going on! Could Della's dad be a murderer? Is Chase being honest about who he is and what he's meant to do? And who is this new ghost, trying really hard to get both Della's attention and Chase's?

And without a doubt Eternal lived up to all of my expectations and more! Things were serious when they needed to be, and funny just at the perfect moments! The story was never slow or boring...trust me Della had a lot going on and to worry about.

Eternal just released and I'm already craving more of Shadowfalls, the gang and C.C. Hunters writing! When's the next book coming out?!?

Without a doubt I plan to pick up C.C. Hunters other series and devour them just as quickly as I did this one!