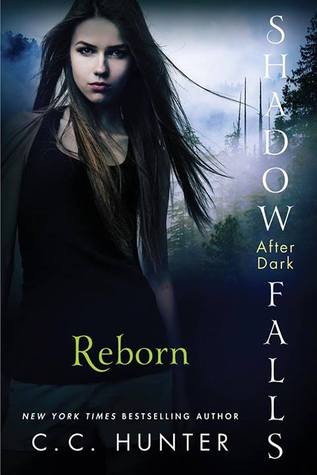 Title:
Reborn.
Author:
C.C. Hunter.
Series:
Yes, #1.
Pages:
400.
Source:
Purchased.
Publisher:
St. Martin's Griffin.
Published Date:
5/20/14
Links:
Book Depository
Goodreads
Summary:
"For Della Tsang, Shadow Falls isn't just a camp: it's home. As a vampire who's never fit in with her human family, it's the one place she can truly be herself. But when a mysterious new guy arrives at camp, Della's whole world is thrown into turmoil. Chase is a vampire with secrets, who knows more than he's telling. But the more time she spends with him, the more she begins to trust this attractive stranger—and feel drawn to him. But romance is the last thing she wants—as she keeps telling Steve, the hunky shapeshifter who won't stop trying to win her heart. And if Della isn't careful, he just might succeed.  When a new case puts everyone she cares about in danger, Della's determined to do everything she can to save them . . . even if it means teaming up with Steve and Chase, who leave her more confused than ever. With their lives on the line, will Della and her friends survive—with their hearts intact?"
Final Verdict:
The main reason I picked up Reborn on such a short notice, was simply because, I was invited to take part in a blog tour for the second installment, Eternal. The reason I accepted the invite to the blog tour was because of all of the AMAZING things I've heard from C.C. Hunter's writing.
Not only does she have this series out, but she also has the Born At Midnight books! While I do own one or two of those books (I think books three and four in the series), I haven't gotten around to reading them for the obvious reasons...I don't have book one and two just yet.
I'll be the first to admit, that I'm over the whole vampire thing! I'm done reading about cold glittery bodies, and blood sucking. It's been done way too many times, and I've gotten my fill. But as you may have noticed from the synopsis, Vampires is what this one is all about...well sort of.
My biggest worry for Reborn was the "vampire overload". I didn't want to read another version of Twilight, but thank goodness Reborn was nothing like that!
Unlike Twilight, the main character was full of life, spunk and sarcastic comments (I couldn't help myself, but to laugh out loud at some of the things she said, and some of the things she really wanted to say). Besides Della, there were a lot of other amazing characters. Steve (Della's almost boyfriend), Chase (the strange new "panty perv"), Della's two best friends, and even the camp leaders, Holiday and her husband.
Already the cast of characters made the story for me!
Besides that, I wasn't completed overwhelmed by the vampire or paranormal thing, as I thought I would. Della isn't constantly sucking blood, drinking blood, or thinking about blood. Instead blood is donated and handled like a normal meal.
Della lived a pretty "normal" life, besides the fact that her parents practically disowned her, her aunt and uncle may have faked their deaths, her cousin is missing, and Della is struggle with her relationships with Steve and Chase.
...I know what you're thinking, LOVE TRIANGLE?
Not really...sort of...kind of...
Again, the "love triangle" (if you can even call it that) wasn't over powering, or annoying. Della didn't drag along either of the two guys, and actually tried to keep her distance from both; which I liked, considering ALL of the other crazy things she had going on. So no, the main focus did shift to this love triangle, instead it remained Della's search for family and the truth.
The end was a bit more explosive than I was expecting, but also in a different way. I figured that some truths would come out, and things would start making since for the cast, but actually it didn't. The entire situation became much more confusing and difficult.
Overall I REALLY enjoyed Reborn! The characters were hilariously awesome, the story wasn't the "same ol' thing", and I'm happy I decided to pick it up, even though I was a bit weary at first! I'm close to finishing Eternal, and I'm excited to see how this second installment ends, compared to the first.
Have you read Reborn? What did you think? Are you excited for Eternal?!