Choosing just one book was an extremely hard decision! A lot of good ones are coming out this upcoming week, that I've either heard good things about, or from authors that I love. Instead of making this hard decision, I decided to add a second book to this Waiting on Wednesday post!
...yes, if you are curious...I am a rule breaker!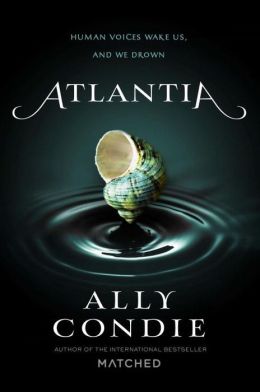 Title:
Alantia.
Author:
Ally Condie.
Summary:
"Can you hear Atlantia breathing?
For as long as she can remember, Rio has dreamed of the sand and sky Above—of life beyond her underwater city of Atlantia. But in a single moment, all Rio's hopes for the future are shattered when her twin sister, Bay, makes an unexpected choice, stranding Rio Below. Alone, ripped away from the last person who knew Rio's true self—and the powerful siren voice she has long silenced—she has nothing left to lose.
Guided by a dangerous and unlikely mentor, Rio formulates a plan that leads to increasingly treacherous questions about her mother's death, her own destiny, and the corrupted system constructed to govern the Divide between land and sea. Her life and her city depend on Rio to listen to the voices of the past and to speak long-hidden truths."
Release Date:
10/28/14.
Why I'm Waiting:
While the cover is pretty horrific and gag worthy, I almost died when I realized that Ally Condie was coming out with another book. Ally Condie, if you don't know (which I wouldn't know, how you wouldn't know) is the author of the Matched Trilogy! If you didn't read it yet (which I don't know why you haven't) its honestly one of the best world building stories I've ever read! She doesn't leave out a single detail, or leave the reader questioning why something is done in this weird way, but instead she explains it all, and makes it all make sense.
When I saw Alantia was written by Ally Condie I had no other option but to include it in this post. The things I'm most excited for when it comes to this book, is obviously the world. That's what I loved about the Matched trilogy, and I'm dying to see what Ally Condie has in store for her readers this time!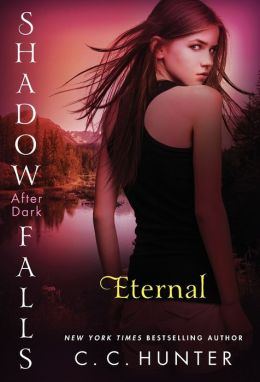 Title:
Eternal.
Author:
C.C. Hunter.
Summary:
"All her life, Della's secret powers have made her feel separated from her human family. Now, she's where she belongs, at Shadow Falls. With the help of her best friends Kylie and Miranda, she'll try to prove herself in the paranormal world as an investigator—all the while trying to figure out her own heart. Should she chose Chase, a powerful vampire with whom she shares a special bond? Or Steve, the hot shapeshifter whose kisses make her weak in the knees? When a person with dark connection to her past shows up, it'll help her decide which guy to choose–and make her question everything she knows about herself."
Release Date:
10/28/14.
Why I'm Waiting:
And if that isn't enough, I'm also waiting for Eternal by C.C. Hunter. I was actually invited to take part in a blog tour for this one next week, which I'm VERY excited for. And while I haven't started reading this one just yet, I am only a few chapters away from finishing the first book in this series, Reborn.
These books are about vampires and other paranormal creatures, and yes, were all a little bit tired of that, BUT I absolutely love the characters.
Della is hilarious! I laugh out loud at most of the things she says and thinks! And I really enjoy the "romance" between her and Steve. It isn't overpowering at all, but more comical than anything else. I'm excited to get started on reading this one tomorrow, and to take part in the blog tour next week!
What books are you waiting for this week? Are you excited for Alantia and Eternal?