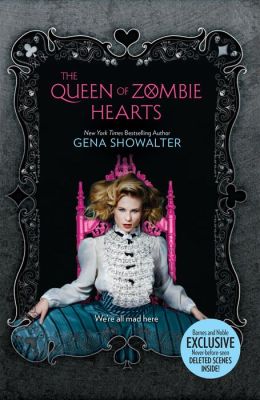 Title:
The Queen of Zombie Hearts.
Author:
Gena Showalter.
Summary:
"I have a plan.
We'll either destroy them for good, or they'll destroy us.
Either way, only one of us is walking away.
In the stunning conclusion to the wildly popular White Rabbit Chronicles, Alice "Ali" Bell thinks the worst is behind her. She's ready to take the next step with boyfriend Cole Holland, the leader of the zombie slayers…until Anima Industries, the agency controlling the zombies, launches a sneak attack, killing four of her friends. It's then she realizes that humans can be more dangerous than monsters…and the worst has only begun.
As the surviving slayers prepare for war, Ali discovers she, too, can control the zombies…and she isn't the girl she thought she was. She's connected to the woman responsible for killing—and turning—Cole's mother. How can their relationship endure? As secrets come to light, and more slayers are taken or killed, Ali will fight harder than ever to bring down Anima—even sacrificing her own life for those she loves."
Release Date:
9/30/14.
Why I'm Waiting:
You mean besides my need for Zombies?
A few months ago I borrowed Alice in Zombieland from my local library, and really enjoyed it. What I liked the most about it was the retelling aspects, Alice's strange dad, and all the weird things that Alice would go through. Alice in Zombieland was such a different story from anything I've ever read before.
But sadly with that said, I haven't been able to get around to reading the second book. I am still dying to finally get my hands on a copy of Through The Zombie Glass, especially now that I'm also waiting for The Queen of Zombie Hearts!!
Are you also keeping up with this series? What do you think of it so far?!