Across the Universe, by Beth Revis
(Thanks to Somer
@bookbirdie.blogspot.com/
)
"Amy is a cryogenically frozen passenger aboard the vast spaceship Godspeed. She expects to awaken on a new planet, 300 years in the future. But fifty years before Godspeed's scheduled landing, Amy's cryo chamber is unplugged, and she is nearly killed.
Now, Amy is caught inside an enclosed world where nothing makes sense. Godspeed's passengers have forfeited all control to Eldest, a tyrannical and frightening leader, and Elder, his rebellious and brilliant teenage heir.
Amy desperately wants to trust Elder. But should she? All she knows is that she must race to unlock Godspeed's hidden secrets before whoever woke her tries to kill again."
Between Shades of Gray, by Ruta Sepetys
"Lina is just like any other fifteen-year-old Lithuanian girl in 1941. She paints, she draws, she gets crushes on boys. Until one night when Soviet officers barge into her home, tearing her family from the comfortable life they've known. Separated from her father, forced onto a crowded and dirty train car, Lina, her mother, and her young brother slowly make their way north, crossing the Arctic Circle, to a work camp in the coldest reaches of Siberia. Here they are forced, under Stalin's orders, to dig for beets and fight for their lives under the cruelest of conditions.
Lina finds solace in her art, meticulously - and at great risk - documenting events by drawing, hoping these messages will make their way to her father's prison camp to let him know they are still alive. It is a long and harrowing journey, spanning years and covering 6,500 miles, but it is through incredible strength, love, and hope that Lina ultimately survives. Between Shades of Gray is a novel that will steal your breath and capture your heart."
Evermore, by Alyson Noel
"Since a horrible accident claimed the lives of her family, sixteen-year-old Ever can see auras, hear people's thoughts, and know a person's life story by touch. Going out of her way to shield herself from human contact to suppress her abilities has branded her as a freak at her new high school—but everything changes when she meets Damen Auguste . . .
Ever sees Damen and feels an instant recognition. He is gorgeous, exotic and wealthy, and he holds many secrets. Damen is able to make things appear and disappear, he always seems to know what she's thinking—and he's the only one who can silence the noise and the random energy in her head. She doesn't know who he really is—or what he is. Damen equal parts light and darkness, and he belongs to an enchanted new world where no one ever dies."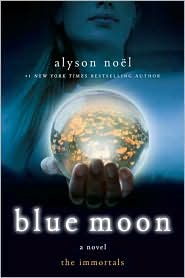 Blue Moon, by Alyson Noel

"Alyson's Noël's bestselling Immortals series has been hailed as "addictive" "beautiful" "haunting" and "mesmerizing." In the second installment, Ever can bring her family back from the dead—but only if she's willing to sacrifice the guy she loves more than life itself.
Just as Ever is learning everything she can about her new abilities as an immortal, initiated into the dark, seductive world by her beloved Damen, something terrible is happening to him. As Ever's powers are increasing, Damen's are fading—stricken by a mysterious illness that threatens his memory, his identity, his life.
Desperate to save him, Ever travels to the mystical dimension of Summerland, uncovering not only the secrets of Damen's past—the brutal, tortured history he hoped to keep hidden—but also an ancient text revealing the workings of time. With the approaching blue moon heralding her only window for travel, Ever is forced to decide between turning back the clock and saving her family from the accident that claimed them—or staying in the present and saving Damen, who grows weaker each day..."