Title:
Faking 19.
Author:
Alyson Noel.
Format:
Paperback.
Series:
Nope.
Publisher:
St. Martins Griffin.
Published Date:
February 15, 2011.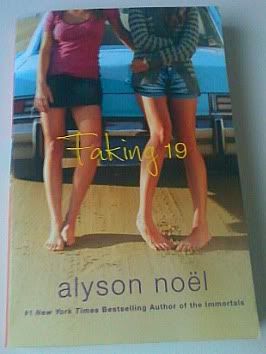 Summary:
"On the surface, seventeen-year-old Alex has it made. She's beautiful and smart, plus she's best friends with M, the absolute most popular girl in school. Feeling bored with their fancy Orange County suburban town, Alex and M decide to check out L.A.'s glitzy nightlife scene.
Pretending to be nineteen, Alex and M meet Trevor and Connor, two rich older guys. At first Alex can't believe her luck—she gets to hang out at hip Hollywood house parties and downtown L.A. clubs. These weekend trips into the city become the perfect distraction for Alex, who is secretly struggling with her failing senior-year grades, her absentee father, and her clueless mom.
But after the initial fun wears off for Alex, she is forced to re-evaluate her friendship with M, who is hiding some secrets beneath her perfect Burberry-clad exterior…"
Cover Opinion:
4/5
I think it's a very pretty cover! But when I see sand, I automatically think beach, ocean and summer, which doesn't happen in this book. So that threw me off a little.
But besides that the car and the font used to write "Faking 19" is cute(:
Characters-
Favorite:
Alex! Hands down, no questions asked. You see her grow A LOT through out the book. At the beginning Alex shows how much she doesn't care about school, even when she finds out that she has lost all of her scholarships and her GPA might be to low to get into college, she still doesn't care. Alex was more worried about her relationship with her friends (M, Conner, her mom, etc).
When she finally realizes that these friendships aren't healthy for her, Alex starts doing homework again, begins to study, "tries" to forget about Conner, and rebuilds her relationship with her mother.
*SPOILER ALERT!*
When Alex receives the scholarship for her writing, it proves to everyone that if you missed up, no matter how bad, and you try hard enough, you
can
always make things better.
Least:
Alex's dad is the worst character in this book! Even though his barely even in the story, he's just a big fat jerk. I don't know what else to call him besides that! He has so much money, but instead of paying his
own
daughter's college he decides to go get married. People like that amaze me, why would you pick some other person over your own child's future?
Story Line:
5/5
There was no real conflict in this book (which is okay), Alex just learns and sees what been in front of her the whole time. So what if she's not rich and her dad bailed out on them? She still has a loving mother, who's trying to make the best of things and a sister who's in college. Alex learns that M (her former best friend) isn't exactly the kind of person she wants to be around.
I really enjoyed the story! I loved it and recommend you to read it, its definitely in my top 5. Honestly, next time I go book shopping, I'll make sure to pick up another Alyson Noel novel:D