If you checked out my last post, explaining why I've been a bit behind on my blogging recently, then you already know that I've been reading the same books for the last two weeks...I know, that's SO sad.
Today at one thirty, I start taking my last final exam, and at about three thirty I will be a free women for the summer! With this freedom, I plan to FINALLY finish reading these three books, within the next two or three days. AND FINALLY get started on something much more summer type of reads!
I'm always behind on my Goodreads reading challenge, but very determined to get back on track and even ahead soon!
The three books I'm currently reading are...
Title:
Water War.
Author:
Stephen Foehr.
Summary:
"This mystery is a classic Little Guy vs Big Government in a battle to defend the individual's livelihood and heritage. The conflict resolves around the Snake Valley Aquifer. The water is the life blood the individual rancher's way of life; Las Vegas wants the water for development to expand its tax base. Stet, leader of the ranchers, embodies Old West values and uses high-tech methods to stop the pipeline to the aquifer. The Lounge Lizards, two Las Vegas cops, try to remove Stet as the opposition leader by framing him for a car bombing and a murder. While on the lam hiding out in "safe ranches," Stet and his wife Ali find new and creative ways to say I love you without using the word love."
My Thoughts So Far:
I'm actually not very far into this one just yet. I started reading it a few days ago, and am only three or four chapters in. I realized that it wasn't a murder crime mystery kind of read, but the whole idea of a small group of people challenging the government is interesting as well. I haven't read any book like this one, because I'm still tucked into my blanket of YA, but I've enjoyed the first few chapters!
Title:
Changeling.
Author:
Philippa Gregory.
Summary:
"The year is 1453 and all signs point to it being the end of the world. Accused of heresy and expelled from his monastery, handsome seventeen-year-old Luca Vero is recruited by a mysterious stranger to record the end of times across Europe. Commanded by sealed orders, Luca is sent to map the fears of Christendom and travel to the very frontier of good and evil.
Seventeen-year-old Isolde, a Lady Abbess, is trapped in a nunnery to prevent her from claiming her rich inheritance. As the nuns in her care are driven mad by strange visions, walking in their sleep, and showing bleeding wounds, Luca is sent to investigate and driven to accuse her.
Forced to face the greatest fears of the dark ages--witchcraft, werewolves, madness--Luca and Isolde embark on a search for truth, their own destinies, and even love as they take the unknown ways to the real historical figure who defends the boundaries of Christendom and holds the secrets of the Order of Darkness."
My Thoughts So Far:
I have less than thirty pages to read of this one, which I hope to complete tonight, and feel okay about this one. This was the first book of Philippa Gregory that I gave a try and thought it was pretty okay. I don't feel such a strong connection to the characters as I would have hoped to, but they live in a completely different world than I do. I wasn't stuck with this one, it wasn't boring, I didn't have a hard time getting through, but it didn't blow me away either. I am excited to see how everything plays out at the end, when the group comes back from traveling, and what happens to Isolde and her friend!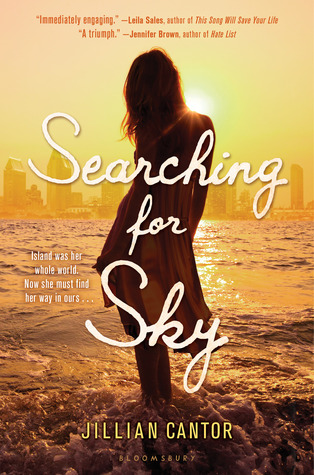 Title:
Searching for Sky.
Author:
Jillian Cantor.
Summary:
"Sky and River have always lived on Island, the only world they've ever known. Until the day River spots a boat. Across Ocean, in a place called California, Sky is separated from River and forced to live with a grandmother she's just met. Here the rules for survival are different. People rely on strange things like cars and cell phones. They keep secrets from one another. And without River, nothing makes sense. Sky yearns for her old life where she was strong and capable, not lost and confused. She must find River so they can return to Island, but the truth behind how they ended up there in the first place will come as the biggest shock of all."
My Thoughts So Far:
I actually really like this one so far. I wasn't too sure how I was going to feel about it, but I do! The only thing I can say that actually bothers me, is how people just assume Sky knows how to work a toilet, or how to wash her hands, or what a car is. For goodness sake people she's lived on an island since she was two years old. And then they get frustrated with her, which makes me even more angry.
But other than that I'm excited to see what happens, and if Sky ever finds River, to go back to the island.
By Thursday, I want to pick up a summer, beach, contemporary read! Wish me good luck!