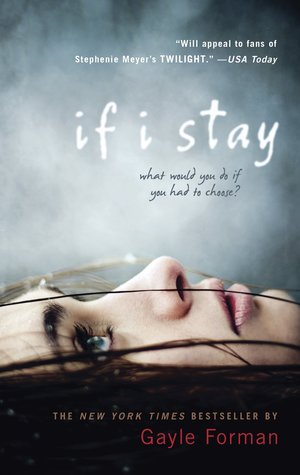 Title:
If I Stay.
Author:
Gayle Forman.
Summary:
"On a day that started like any other,
Mia had everything: a loving family, a gorgeous, admiring boyfriend, and a bright future full of music and full of choices. In an instant, almost all of that is taken from her. Caught between life and death, between a happy past and an unknowable future, Mia spends one critical day contemplating the only decision she has left. It is the most important decision she'll ever make.
Simultaneously tragic and hopeful, this is a romantic, riveting, and ultimately uplifting story about memory, music, living, dying, loving."
My Thoughts So Far:
I haven't gotten into this one yet, with having finished reading Just One Year this morning. I plan on spending the rest of the night in bed with this book. I'm excited to see what my friend Shawnee and ALL other book bloggers loved so much about this book! This is the book I've been looking forward to the most in this Gayle Forman reading week!
Have you read this one? Do you want to go see the movie? Have you seen the trailer yet!!?