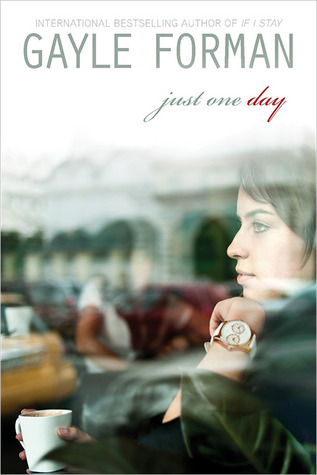 Title:
Just One Day.
Author:
Gayle Forman.
Summary:
"A breathtaking journey toward self-discovery and true love, from the author of If I Stay
When sheltered American good girl Allyson "LuLu" Healey first meets laid-back Dutch actor Willem De Ruiter at an underground performance of Twelfth Night in England, there's an undeniable spark. After just one day together, that spark bursts into a flame, or so it seems to Allyson, until the following morning, when she wakes up after a whirlwind day in Paris to discover that Willem has left. Over the next year, Allyson embarks on a journey to come to terms with the narrow confines of her life, and through Shakespeare, travel, and a quest for her almost-true-love, to break free of those confines."
My Thoughts So Far:
As some of you may know, I'm spending the entire week (or so) reading nothing but Gayle Forman books. Why? Well, not only because I haven't gotten the chance to read any of them, EVERYONE seems to be loving them, but also because If I Stay is coming out in theaters August 22.
I wasn't sure which set of books to start reading, but decided to go ahead and start with this one first. While I'm usually not that crazy about foreign guys, and I don't think I would go to Paris with a RANDOM stranger for the day, I AM enjoying Just One Day.
I'm about half way through, and am pretty excited to see what happens between Allyson, and Willem! Will they ever see each other again? Will they get together? Will she stay in Paris with him? So MANY questions!