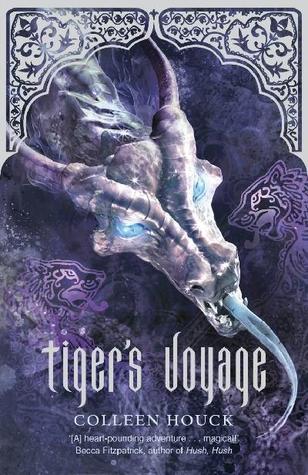 Title:
Tiger's Voyage.
Author:
Colleen Houck.
Series:
Yes, #3.
Pages:
560.
Source:
Purchased.
Publisher:
Hodder & Stoughton.
Published Date:
11/1/11.
Links:
Book Depository.
Goodreads.
Summary:
"With the head-to-head battle against the villainous Lokesh behind her, Kelsey confronts a new heartbreak: in the wake of his traumatic experience, her beloved Ren no longer remembers who she is. As the trio continues their quest by challenging five cunning and duplicitous dragons, Ren and Kishan once more vie for her affections--leaving Kelsey more confused than ever."
My Thoughts:
Tiger's Voyage is the third book in the Tiger Saga, and weighs just as much, if not more than any of the other three books. I don't know if anyone else has mentioned this in their reviews, but the hardback versions of The Tiger Saga, are CRAZY heavy! ...I don't recommend bringing them with you...especially if you're trying to pack lightly.
Tiger's Voyage continues with Kelsey, Kishan and Ren's journey to break the brothers' tiger course. To do that they need to find four talisman, and to do that they need to find five dragons...I know that's a lot, but trust me, it's GOOD!
Ren was kidnapped, and tortured, and finally rescued. While his tiger ability did allow for him to heal quickly, one thing about Ren hasn't healed yet; his memory. He can quickly identify his brother, and Mr.Kadam, but he has no idea who Kelsey is. Kelsey can't believe what's going on, how could Ren not remember everything they shared together? At first she was determined to do anything, to get his memory back and running...but when Ren admits to not having any feelings for her, and EVEN invites another girl on their cruise ship, Kelsey's heart is broken..
On the other hand. Kishan takes full advantage of this situation and keeps his should dry for Kelsey to cry on.
Besides all of this, Kelsey and the two brothers need to push all their feelings and drama aside to continue on their mission to find Durga's pearl necklace, the third of four talisman. Kelsey tries her best to avoid Ren, but that can be pretty hard to do when you are stuck on a cruise ship together, and always traveling so closely.
Final Verdict:
Before I say anything, there's two HUGE things that I need to get off of my chest. One, the traveling...while I understand that there is traveling to be done, especially when your on the hunt for five dragons and four talisman. But does the reader really need to get every detail? Do we really have to partake in every single day? I do like that this book takes place in India, and I like imaging what Kelsey, Ren and Kishan might be seeing and experiencing, but some of their every day activities, were getting a bit old.
Second, I'll be the first to admit, I do LOVE ME a GOOD love triangle. I like seeing how people deal with this conflict and decide what they want for themselves, and what causes that decision. But I still don't know how I feel when it's between a girl and two brothers. I just think its weird, and that she might be coming between family. But I must say Colleen Houck is pretty convincing in her books!
Now that that's over with, here's everything I loved:
Ren. We finally got to see a different side of him, that wasn't completely focused on Kelsey, that wouldn't bend down and do anything that Kelsey wanted him to. In this book, I felt that we got to a glimpse of Ren, and what he was like before he and Kishan met Kelsey. I liked it, because it was different.
Kishan. I was rooting for him throughout this entire series. He is this tough guy, who isn't really TOO romantic, but more "real world boy-ish". Kishan isn't exactly "smooth" or knows just how to "sweep a girl off her feet", and I liked that about him. In this book even when he tried his hardest, he wasn't "pefection" like Kelsey (who was never afraid to mention) thought Ren was. Kishan reminded me of boys in real life.
Mr. Kadam. He doesn't play a huge role in these books, but he is kind of the backstage man, who is making everything work. He is this sweet old guy, that I couldn't help but love.
Kelsey & Kishan. It was interesting to finally see them together.
The Ending. I was happy that Ren didn't get exactly what he wanted, and that Kelsey didn't give in. This happens a lot throughout the first two books, but not this time!
Culture! I absolutely love the language, culture and sights that the group gets to see and experience. I love reading about the spicy food Kelsey gets to indulge in and the beautiful dresses she gets to wear.
I have to admit, I liked this book more than the first two, simply because Kishan played a larger role in it. Like I said before, I was rooting for him this entire series! Have you started this series yet? Which book is your favorite?