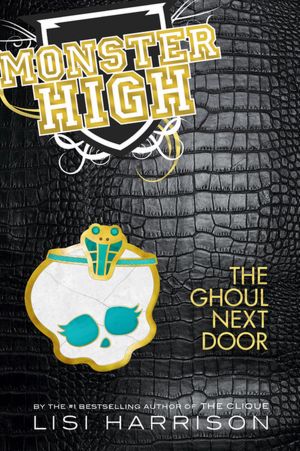 Monster High #2 The Ghoul Next Door, by Lisi Harrison.
"Cleopatra de Nile

- New pet snake
- Has Deuce—the hottest guy in school—all wrapped up
- Herve Leger bandage dress, strappy gold platforms

Cleo was the queen bee of the RADs, the normies, and everyone in between at Merston High. But now it's "Frankie this" and "Melody that" . . . these new girls sure know how to get her lashes in a tangle. When Cleo lands a golden Teen Vogue photo op for her friends, everything seems to be back on track . . . until they bail to be in some film . . . Frankie and Melody's film! Can't a royal get some loyal?

Frankie Stein

Frankie lost her head over Brett once and vows never to do it again. Not that she has a choice: Bekka is clinging to her guy like plastic wrap. But when Brett comes up with a plan that could help the RADs live free, sparks fly, and Bekka will stop at nothing to put out the flames . . . even if it means destroying the entire monster community.

Melody Carver

The clock is tick-tick-ticking. Melody has a serious deadline to save her boyfriend, Jackson, from being exposed by the vengeance-seeking Bekka. But Cleo is making it royally difficult for the normie while threatening her acceptance into the RADs' exclusive group . . . a group that Melody suspects she has more in common with than she ever thought.

Fitting in is out."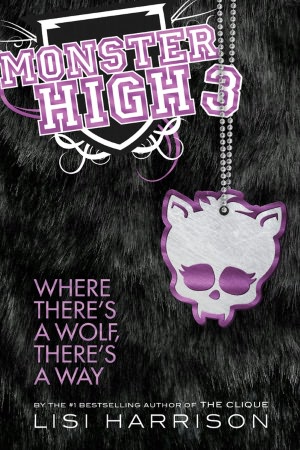 Monster High $3 Where There's a Wolf, There's a Way, by Lisi Harrison.
"The frighteningly hip teenage children of the world's most famous monsters have gathered together under one roof...to brave the horrors of high school!
Always overshadowed by her six brothers and her fab friends, Clawdeen Wolf plans to finally strut her stuff in the spotlight at her upcoming Sweet Sixteen bash. But after The Ghoul Next Door goes viral, it's into the woods for the family Wolf. Clawdeen goes stir crazy lying low at her family's B&B with her annoying brothers until Lala shows up to keep her company. But is the vamp flirting with Claude?!"
Don't Judge a Girl by Her Cover, by Ally Carter.
"When Cammie Morgan visits her roommate Macey in Boston, she thinks she's in for an exciting end to her summer. After all, she's there to watch Macey's father accept the nomination for vice president. But when you go to the world's best school (for spies), "exciting" and "deadly" are never far apart. Soon the girls find themselves trapped in a kidnappers' plot, with only their espionage skills to save them."
Unearthly by Cynthia Hand.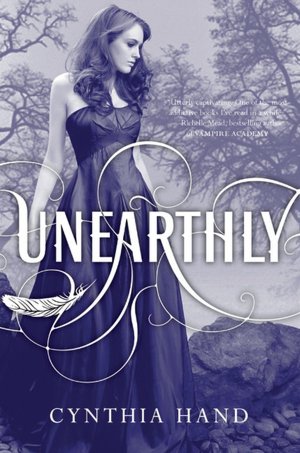 "When Clara Gardner learns she's part angel, her entire life changes. She now has a purpose, a specific task she was put on this earth to accomplish, except she doesn't know what it is. Her visions of a raging forest fire and a mysterious boy lead her to a new high school in a new town but provide no clear instruction. As Clara tries to find her way in a world she no longer understands, she encounters unseen dangers and choices she never thought she'd have to make—between the boy in her vision and the boy in her life, between honesty and deceit, love and duty, good and evil. . . . When the fire from her vision finally ignites, will Clara be ready to face her destiny?"