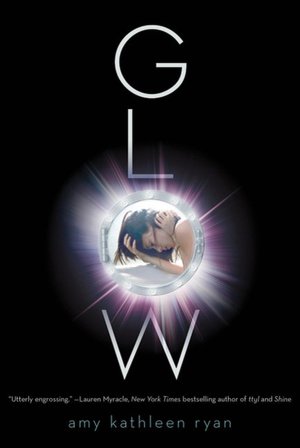 Title:
Glow.
Author:
Amy Kathleen Ryan.
Format:
Audio Book.
Length:
10 hours.
Series:
Yes, #1.
Source:
Publisher.
Publisher:
Macmillan Audio.
Published Date:
9/13/2011.
Summary:
"If a violent battle destroyed the only world you've ever known, would you be brave enough to save who was left? Would love be strong enough to survive the fight? Either way, there's no turning back.

The Empyrean is the only home 15-year-old Waverly has ever known. Part of the first generation to be successfully conceived in deep space, she and her boyfriend Kieran will be pioneers of New Earth. Waverly knows she must marry young in order to have children who can carry on the mission, and Kieran, the handsome captain-to-be, has everything Waverly could want in a husband. Everyone is sure he's the best choice. Still, there's a part of Waverly that wants more from life than marriage, and she is secretly intrigued by the shy, darkly brilliant Seth.

Suddenly, Waverly's dreams are interrupted by the inconceivable – a violent betrayal by the Empyrean's sister ship, the New Horizon. The New Horizon's leaders are desperate to populate the new planet first, and will do anything to get what they need: young girls. In one pivotal moment, Waverly and Kieran are separated, and find themselves at the helm of dangerous missions, where every move has potentially devastating consequences, and decisions of the heart may lead to disaster.

Pulse-pounding and addictive, GLOW begins the most riveting series since The Hunger Games."
Cover:
I'm not sure how I feel about the cover! When I saw Glow in my local Barnes and Nobles, it didn't catch my eye like I hope a book would.
After finally listening to Glow, I like the cover a lot more. Reading the story the cover makes sense!
"Don't judge a book by it's cover!" ...literally.
My Thoughts:
Amy Kathleen Ryan's Glow, is the first book featured here on Turning Pages that has anything to do with the future, spaceships, and what we (humans) would do if earth wasn't inhabitable anymore. I usually don't go for books about that, but I'm really glad I picked up Glow anyways!
One of the biggest things I liked about this book, was the strong female character, Waverly! Even though I didn't like the way she treated Kieran (her boyfriend) at the beginning of Glow, after being kidnapped, taken to a whole different ship, and a few other things, she grows. Waverly becomes strong, and she finally knows, that she has nothing left to lose.
The girls are gone, and the adults were killed trying to defend the ship, so that only leaves the boys on the Empyrean. Not knowing what to do, Kieran takes over and continues to lead the ship on it's original path. Why? Because the girls could be anyway, and they could be searching forever. But if they stayed on track, at least the girls would know where they are.
I had pretty high standards before staring Glow, simply because every review I've read, said it was amazing, and they've never read anything like it. But when I was about halfway through, I lightened up a bit, and realized why all these reviews were so good!
If you haven't read Glow yet, you really should, it'll be a great start to your new year!