Welcome to Turning Pages!
AND to this month's giveaway! Whaaa? YES! Its about time!
I spent the whole day considering what I wanted to give away...and came up with the usual suspects...I could either go out and buy a new "popular" book, I could give away an Amazon gift card, or I could give away books that I read this month.
After a little bit of debate, I decided to go with the last one. But I'm not giving away an old books...NO! I'm giving away the books I was given for review! The books that are releasing THIS month!
If you stopped by just yesterday to check out who won last month's giveaway, than you may know that I was planning to have three giveaway winners.
...Man, oh man, is this giveaway getting better and better, or what?
Well, just you wait, because I'm giving two of those books away to US residents and I'm giving away the third to an INTERNATIONAL resident!!
...Lisa get on with it, what books are up for grabs?!
BEFORE I tell you, here are the rules....
1.You must be in the US to enter in the US only giveaways!
2.You must be INTERNATIONAL to enter the INTERNATIONAL only giveaway!
3.You MUST be a GFC follower!
4.You must fill out the rafflecopter listed below the giveaway you want to enter.
5. AND finally, you must 13 years of age or have parental permission to enter!
These giveaways will go until April 10, which gives you all plenty of time to enter, and tweet every day to earn extra entries!
INTERNATIONAL GIVEAWAY ONLY: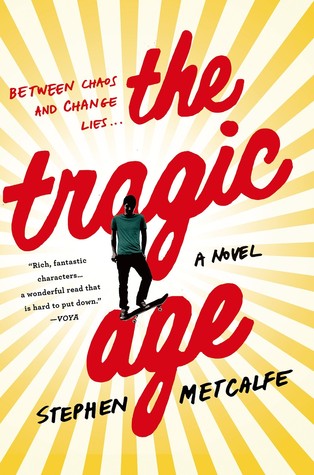 The Tragic Age, by Stephen Metcalfe.
US GIVEAWAYS ONLY:
Dreamfire, by Kit Alloway
Duplicity, by N.K. Traver.
...I will be adding pictures of the physical copies that I have tomorrow, when it isn't pitch dark outside, just so you can really see what they look like!
Thank you all so much for stopping by and taking the time to enter these giveaways! Good luck to all of you!!