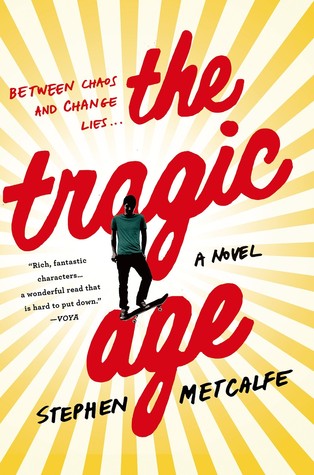 Title:
The Tragic Age.
Author:
Stephen Metcalfe.
Series:
No.
Pages:
320.
Source:
Publisher, for Review.
Publisher:
St. Martin's Griffin.
Published Date:
3/3/15.
Links:
Book Depository
Goodreads
"This is the story of Billy Kinsey, heir to a lottery fortune, part genius, part philosopher and social critic, full time insomniac and closeted rock drummer. Billy has decided that the best way to deal with an absurd world is to stay away from it. Do not volunteer. Do not join in. Billy will be the first to tell you it doesn't always work— not when your twin sister, Dorie, has died, not when your unhappy parents are at war with one another, not when frazzled soccer moms in two ton SUVs are more dangerous than atom bombs, and not when your guidance counselor keeps asking why you haven't applied to college.
Billy's life changes when two people enter his life. Twom Twomey is a charismatic renegade who believes that truly living means going a little outlaw. Twom and Billy become one another's mutual benefactor and friend. At the same time, Billy is reintroduced to Gretchen Quinn, an old and adored friend of Dorie's. It is Gretchen who suggests to Billy that the world can be transformed by creative acts of the soul. 
With Twom, Billy visits the dark side. And with Gretchen, Billy experiences possibilities.Billy knows that one path is leading him toward disaster and the other toward happiness. The problem is—Billy doesn't trust happiness. It's the age he's at. The tragic age."
My Review:
Before I begin my review of The Tragic Age, I want to warn you that there is some mature content in this book. The synopsis doesn't really hint at it, so I just wanted to give you a quick heads up.
Again, The Tragic Age was one of those books I accepted to review, based purely on the synopsis. I didn't read any reviews, nor did I glance at its ratings on Goodreads. My first instinct when making my way through the synopsis, was that this book was full of cliches; a rich, misunderstood boy, whose parents don't give a hoot about him, but finds a girl who truly understands him. The couple then goes through some sort of struggle, that in the end brings them back together again.
So what made me decide to read and review this book? The fact that it was in a male's perspective, and that the author is a male....
You don't know how many YA and contemporary books I've read, written by women, where the guy knows the perfect thing to say to a girl. Where a guy has these true and passionate feelings on the inside, but tries to portray a tough guy on the outside. And I mean HOW CLICHE IS THAT?
I want to read more books in a male's perspective, written by a male. I want to know what a guy is REALLY thinking and REALLY thinking. Not a washed out version of it, from a female's perspective. Again, don't get me wrong, I LOVE those contemporary books where the guy does and says all the right things. But recently I've been craving the real thing.
Overall, The Tragic Age does follow the story of a teenage boy whose parents won the lottery. Many claim that money would solve so many of their problems, and it probably does, but money also comes with its own baggage. Since Billy's dad won the lottery, nothings been the same. He's sister Dorie passed away due to cancer at the age of eleven. His parents are fighting more than ever, and Billy's practically lost any and all connection he's had with them.
Billy is dealing with a lot, from the loss of his twin sister, to the issues he faces at home, as well as school. Billy would much rather fit in and hide behind the crowds, than stick out.
But when Billy meets the new kid, Twom, his life completely changes. He does, says, and thinks things he would never have before. Billy, Twom, and two other "friends" start breaking into empty houses together. The four of them devise a plan to pick the lock, enter the security code (that they stole from the security systems), answer the phone call asking them to verify another password, and then spend the night there. While Twom goes to another room with his girl, the group searches around the house, looking for pictures, food and anything else that catches their attention. They never steal, they never damage anything, they just hangout.
Billy is an emotion wreck through most of the story. He doesn't know what it means to feel something, because whenever he does, his dad is there to quickly shut it all down. But when Billy runs into Dorie's old friend, Gretchen, he can't ignore that feeling he gets whenever he's around her.
My thoughts on The Tragic Age? I enjoyed it. I finished within just a day or two, and found it to be different and interesting. I read this book mainly because of the main character and the author, and I got everything I wanted out of it. I got all the weird things boys say and do. I go all of the emotions and turmoil a teenage boy goes through, that I wouldn't have gotten from many other contemporary books.
The cast of characters was also interesting. Billy, obviously, was a bit boring towards the beginning and middle of the book. But I feel like he was meant to be that way, to truly showcase how much he likes blending in. But towards the end of the book he started warming up and we got to witness a whole new side to him. Other than Billy, Towm was also a very interesting guy! When we are first introduced, he comes across mysterious and with a IDGAF attitude. But just like Billy, Twon opened up and even displayed emotion, both towards the girl he loved and his friends.
To be truthful, this story went in a completely different direction that I could have ever dreamt up. I thought it would be much more romance-y than it actually was. It was much more focused on friendship between these guys, all the crazy things they did, and the consequences that come along with those. Obviously I won't tell you what those are because you need to read the book for yourself! But I'm glad to say that it didn't go as I planned. I liked it this way much better.
Have you read The Tragic Age yet? What do you think? If you haven't do you plan on picking it up?