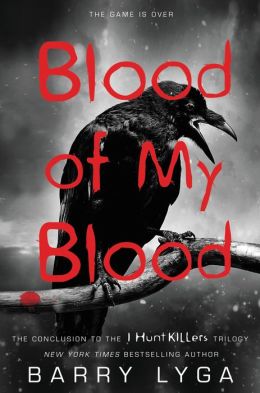 Title:
Blood of My Blood.
Author:
Barry Lyga.
Summary:
"Jazz Dent has been shot and left to die in New York City. His girlfriend Connie is in the clutches of Jazz's serial killer father, Billy. And his best friend Howie is bleeding to death on the floor of Jazz's own home in tiny Lobo's Nod. Somehow, these three must rise above the horrors their lives have become and find a way to come together in pursuit of Billy. But then Jazz crosses a line he's never crossed before, and soon the entire country is wondering: "Like father, like son?" Who is the true monster?
The chase is on, and beyond Billy there lurks something much, much worse. Prepare to meet...the Crow King."
Release Date:
9/9/14.
Why I'm Waiting:
It's really sad to admit, but I haven't even read I Hunt Killers! Even though it's been out for so long, and even though everyone who's read it, seemed to have loved it!
So I'm waiting for this one, this week, because it's the third and final book in the I Hunt Killers trilogy, and I'm hoping it'll motivate me to read them soon. Now I can buy all three at once, and marathon through all three of them!
Have you read this trilogy yet? What do you think?