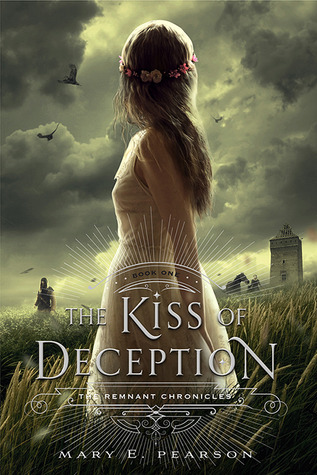 Title:
Kiss of Deception.
Author:
Mary E. Pearson.
Series:
Yes, #1.
Pages:
492.
Source:
Netgalley, for Review.
Publisher:
Henry Holt.
Published Date:
7/8/14.
Links:
Book Depository
Goodreads
Summary:
"A princess must find her place in a reborn world.
She flees on her wedding day.
She steals ancient documents from the Chancellor's secret collection.
She is pursued by bounty hunters sent by her own father.
She is Princess Lia, seventeen, First Daughter of the House of Morrighan.
The Kingdom of Morrighan is steeped in tradition and the stories of a bygone world, but some traditions Lia can't abide. Like having to marry someone she's never met to secure a political alliance.
Fed up and ready for a new life, Lia flees to a distant village on the morning of her wedding. She settles in among the common folk, intrigued when two mysterious and handsome strangers arrive—and unaware that one is the jilted prince and the other an assassin sent to kill her. Deceptions swirl and Lia finds herself on the brink of unlocking perilous secrets—secrets that may unravel her world—even as she feels herself falling in love."
My Thoughts:
My first impression of The Kiss of Deception basically included me drooling all over the cover as well as the synopsis, but then quickly shutting my mouth and stepping back when I saw who the author was.
It's nothing personnel, but I absolutely despised The Adoration of Jenna Fox. After forcing myself to read it for school, I've built up this hatred for it. I didn't like the story, the characters, or the ending. I promised myself to never finish the series, and I haven't looked, touched or talked about it since...
da daa DAA!!
But the cover and the synopsis quickly changed my mind, and I forgot all about that! I read, indulged, gulped and inhaled The Kiss of Deception. It was absolutely AH-mazing, and I can't wait to get my hands on the second book!
The Kiss of Deception is the story of princess Lia, who is married off by her dad, the king, because of a political alliance. Things have always been a little tense between the two kingdoms and her dad thinks that this will settle things down.
Lia has never even seen, or talked to her soon to be husband.
Recently a lot of things have changed in Lia's life. When she was younger, she was allowed to do and play whatever, and however her three older brothers did. She rode a horse, knew how to use a knife, and explored the forest. But with growing up, Lia was expected to be more lady like, and was now spending most of her days learning to be proper and in her room.
Lia doesn't want to marry a man she's never met, simply because her dad thinks this alliance will help settle things down. So she decides to run away with her maid and best friend, to small village in the hopes of finding a new life.
But being a princess and running away the morning of your wedding day, isn't going to be easy, especially when you have the prince you were suppose to marry and the assassin your dad sent to kill you, chasing you down.
You don't know who they or just how close they actually are to you...
Final Verdict:
When I first starting reading The Kiss of Deception I was a little bit unsure. There were a lot of things I liked about this book, but the whole "Jenna Fox" thing worried me.
After reading the first chapter, I knew I had nothing to worry about! It had me wrapped around it's finger, and it wasn't letting go!
I couldn't get enough! There was so much going on, from her best friend's romance and relationship with one of her brother's soldiers, to the prince and the assassin being so close to Lia throughout most of the book! There were just so many things going on in this story that kept me sitting on the edge of my seat.
Besides these elements I also really enjoyed the main character. I liked that she was feminine, but also knew how to hold her own, both working at the bar around drunks, and in the forest, running away and surviving.
Lia also had an amazing friendship with her maid, that I thought was really meaningful.
Overall The Kiss of Deception has been one of my favorite reads in 2014, and the second book in this series is one of the most highly anticipated release for me. I can't wait to see what happens next and what else Lia has up her sleeve!