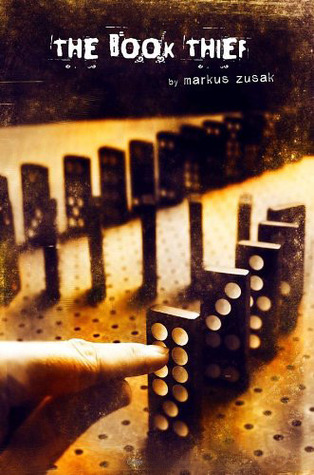 Title:
The Book Thief.
Author:
Markus Zusak
Summary:
"It's just a small story really, about, among other things, a girl, some words, an accordionist, some fanatical Germans, a Jewish fist-fighter, and quite a lot of thievery.
Set during World War II in Germany, Markus Zusak's groundbreaking new novel is the story of Liesel Meminger, a foster girl living outside of Munich. Liesel scratches out a meager existence for herself by stealing when she encounters something she can't resist: books. With the help of her accordion-playing foster father, she learns to read and shares her stolen books with her neighbors during bombing raids - as well as with the Jewish man hidden in her basement before he is marched to Dachau.
This is an unforgettable story about the ability of books to feed the soul."
My Thoughts So Far:
I'm pretty much finished with The Book Thief, with only having the epilogue to read, but I really wanted to include it in this post! I can't believe how much I loved this book! In school, it seems like we learn about World War Two every single year. And when I was searching for Young Adult book clubs to attend locally, this was one of the books they were reading.
Of course I wanted to attend with my friend Shawnee @ YA Fiction Review, but I wasn't too excited about reading a book that was revolved around the WWII. But I already had it sitting on my shelf, and thought why not.
I picked it up and within 48 hours I had this book read and finished. I fell in complete love! Even though I don't see where Liesel is a book "thief" besides maybe once or twice, I would consider her more of a book "borrower". Anyways, I couldn't get enough, and there's no way I won't be picking up Markus Zusak's other books!