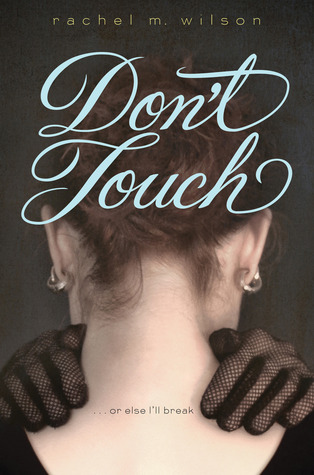 Title:
Don't Touch.
Author:
Rachel Wilson.
Series:
No.
Pages:
432.
Source:
For Review, From MMSAI.
Publisher:
HarperTeen.
Published Date:
9/2/14.
Links:
Book Depository
Goodreads
Summary:
"Step on a crack, break your mother's back. Touch another person's skin, and Dad's gone for good.
Caddie can't stop thinking that if she keeps from touching another person's skin, her parents might get back together... which is why she wears full-length gloves to school and covers every inch of her skin.
It seems harmless at first, but Caddie's obsession soon threatens her ambitions as an actress. She desperately wants to play Ophelia in her school's production of Hamlet. But that would mean touching Peter, who's auditioning for the title role—and kissing him. Part of Caddie would love nothing more than to kiss Peter—but the other part isn't sure she's brave enough to let herself fall."
My Thoughts:
I'm not sure what pulled me into Don't Touch, maybe the mysterious cover, or the strange synopsis. But both are interesting, and there was no way I would let the chance of reviewing Don't Touch pass me by!
Don't Touch is a story about a teenage girl named, Caddie, who is going through a lot. Not only the separation and divorce of her parents, but also the new school she's attending, the old best friend she's reclaiming, the stage production she's taking a part in, and the anxiety she feels because of her dad.
While the divorce is hard on everyone, except for maybe her dad, Caddie has taken the hardest hit. Jordan, her brother, is angry and disappointed. Her mom is already moving on, and doing things she loves to do. And Caddie is blaming herself that her father isn't coming back. She doesn't know why, but she thinks if someone touches her skin, her dad won't come back.
Caddie goes as far as wearing gloves every single day, and scrubbing her body with boiling hot water. If someone touches her skin, Caddie is afraid that her dad will never come back, and that they will never be a family again.
Caddie has been dealing with this since her father left a few months ago, but when school starts, the play starts, and a boy named Peter catches her attention, Caddie is having a hard time keeping this secret under wraps. She doesn't want to be weird or act strange, but she knows no one can touch her, or else her biggest fear will become reality.
She knows this can't go on forever, especially when Caddie starts to get these feelings for Peter.
Don't Touch follows Caddie's journey to getting over this anxiety and to stop blaming herself for her dad not coming back home. But also her first romance as well as establishing her old friendship with Mandy.
I have to admit, that I don't understand how or why Caddie came up with this idea; touching her skin means that her dad won't come home. I don't get where the connection is. But then again, I have never been in such a stressful situation, and I can't really connect to her in that way.
Overall, I REALLY liked Don't Touch. Even though I didn't understand Caddie's reasoning, I actually felt like I shouldn't. That it was more something only Caddie can understand, and the reader is in the same position as Peter, and all of her other friends and family.
What I liked the most about this book was that the "healing" process didn't fly by. I liked that Rachel Wilson took her time and that Caddie didn't all of a sudden come out, and feel better. Caddie actually struggled, she actually took hard hits trying to hide this secret and I liked that!
Don't Touch was such a meaningful read, and had so many different interesting elements to it, that it made it hard to put down. If you haven't read this one yet, you need to ASAP!